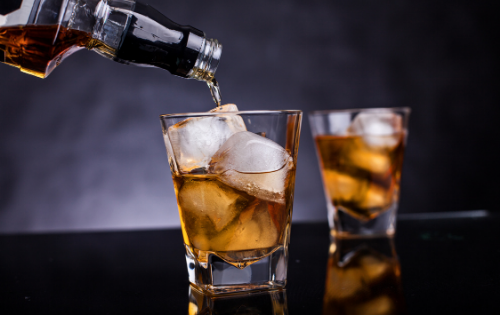 Irish Whiskeys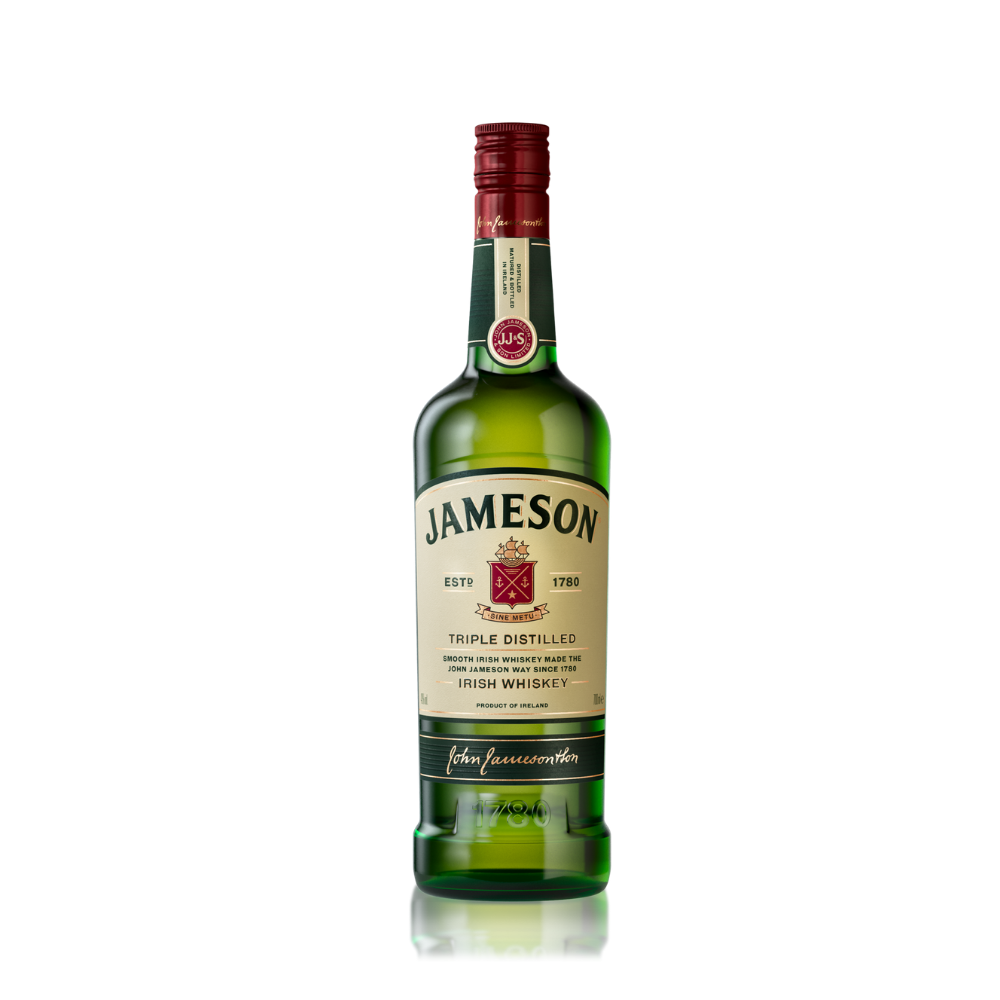 Jameson Irish Whiskey
Nose: A light floral fragrance, peppered with spicy wood and sweet notes.
Taste: The perfect balance of spicy, nutty, and vanilla notes with hints of sweet sherry and exceptional smoothness.
Finish: Exceptionally smooth.
€5.00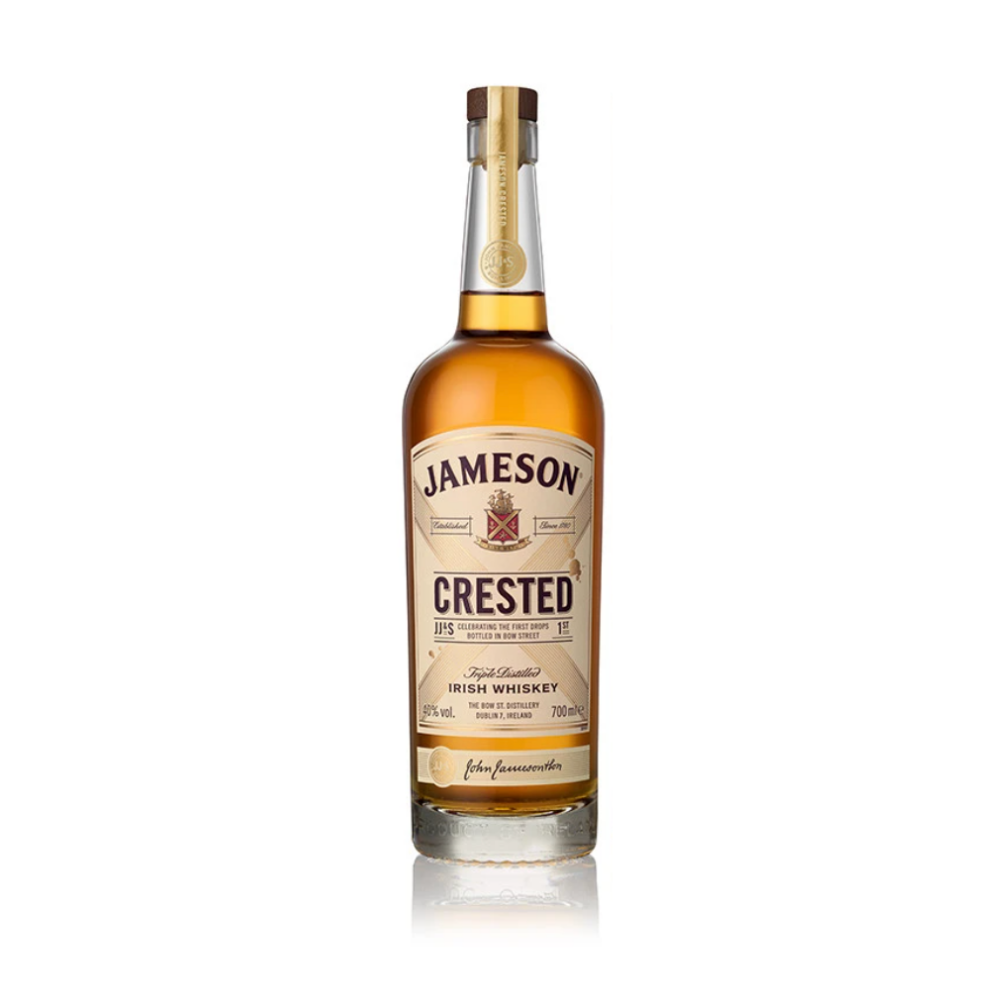 Jameson Crested
Nose: Vivid sherry pot still aroma.
Taste: Delicate sherry undertones and toasted wood, with fruit, spice and chocolate notes.
Finish: Warm, lingering sherry.
€5.50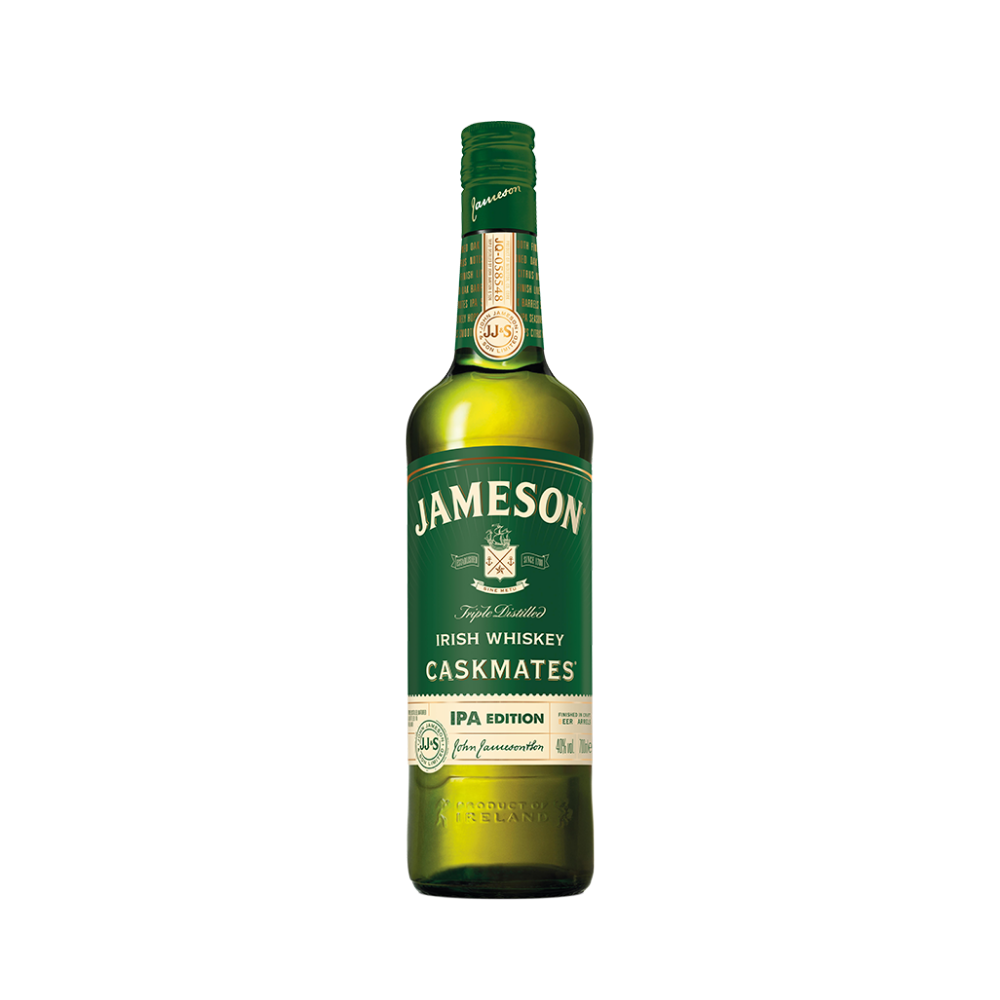 Jameson Caskmates IPA
Nose: Floral, herbal hops, grapefruit citrus notes with subtle orchard fruits, complemented by wood shavings and a little nuttiness.
Taste: Hops and light citrus with sweet herbal notes and delicate spicy tones.
Finish: The lingering fresh fruit and hops give way to grains of barley and a signature smooth finish.
€6.00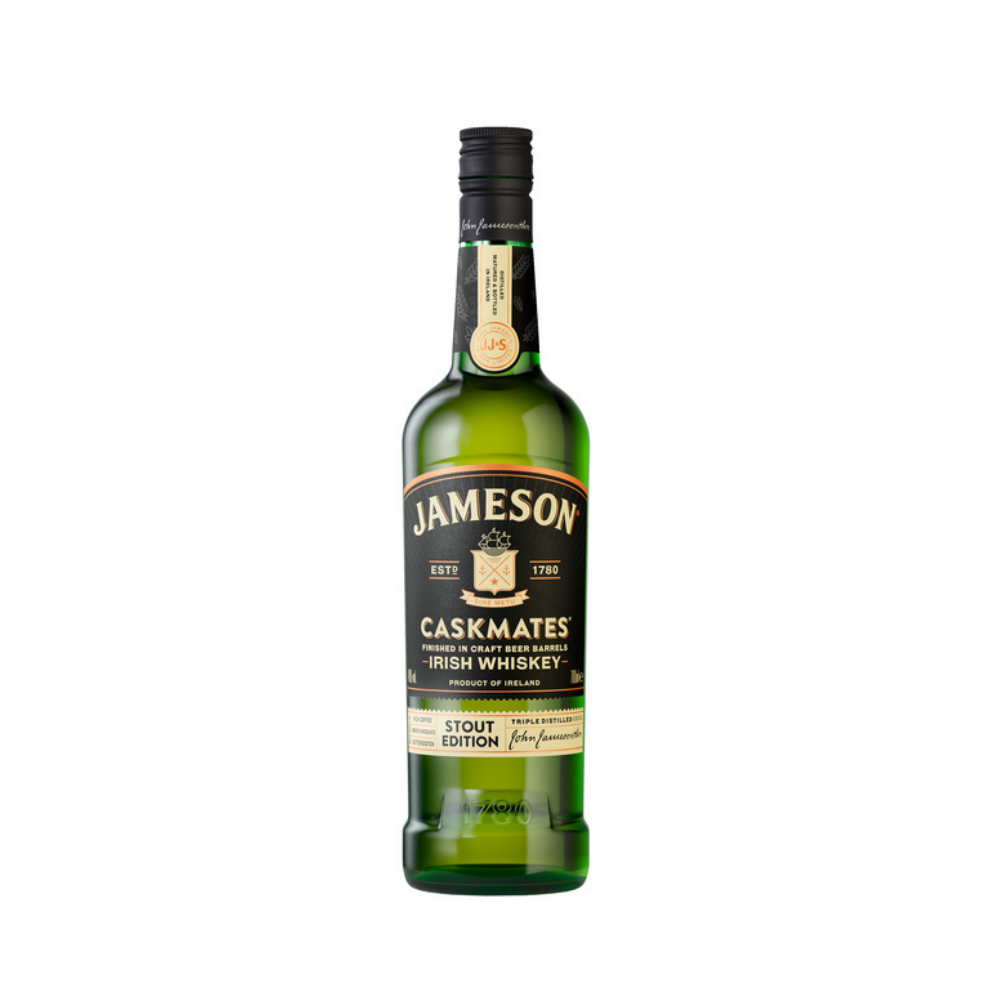 Jameson Caskmates Stout Edition
Nose: An initial aroma of freshly cut hay is complemented by a crisp orchard fruit character – green apples and pears, with a twist of lime zest. Mild pot still spices appear, deepening from green tea to hazelnut and milk chocolate.
Taste: The initial sweet mouth coating typical of the Irish pot still inclusion is quickly complemented by the subtle touch of hops and cocoa beans from the beer cask finish.
Finish: Long and sweet with milk chocolate and butterscotch.
€6.00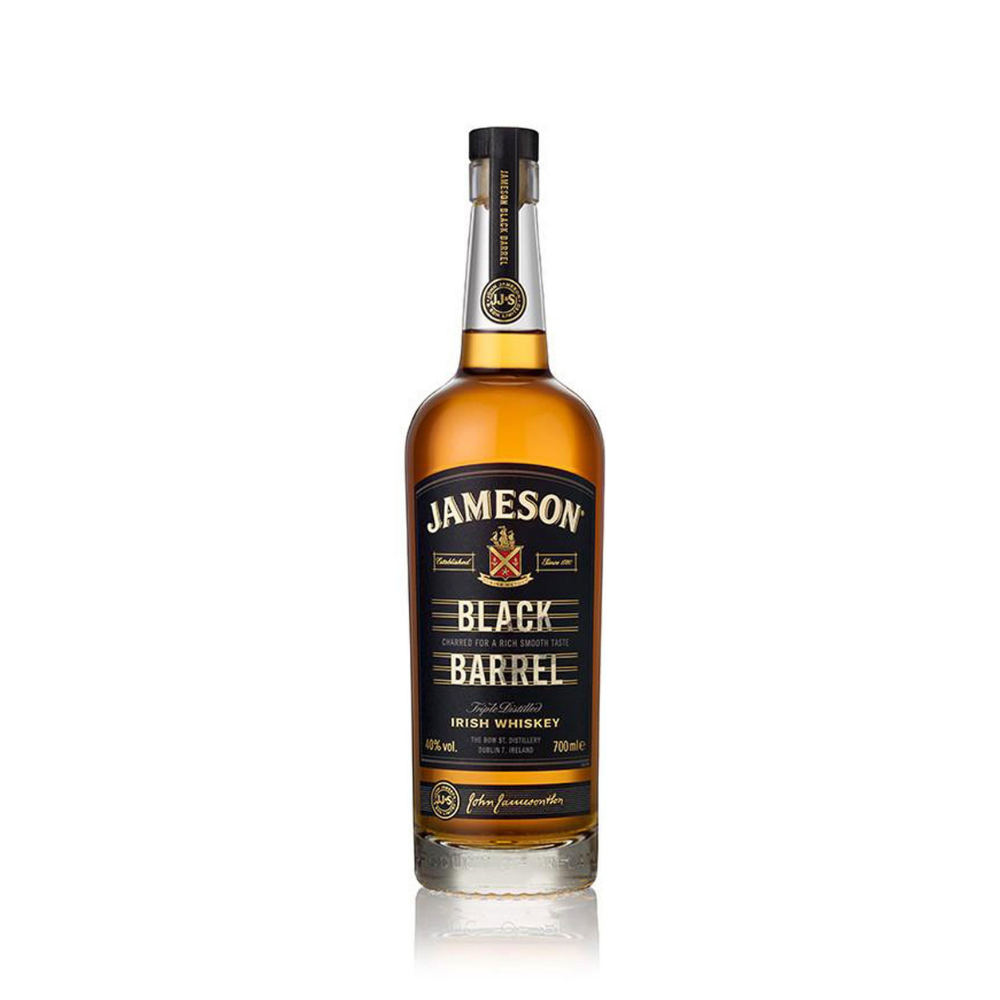 Jameson Black Barrel
Nose: Time spent maturing in these barrels leads to intensified aromas of butterscotch, fudge and creamy toffee.
Taste: Nutty notes are in abundance alongside the smooth sweetness of spice and vanilla.
Finish: Enjoy the richness and intensity of toasted wood and vanilla.
€8.50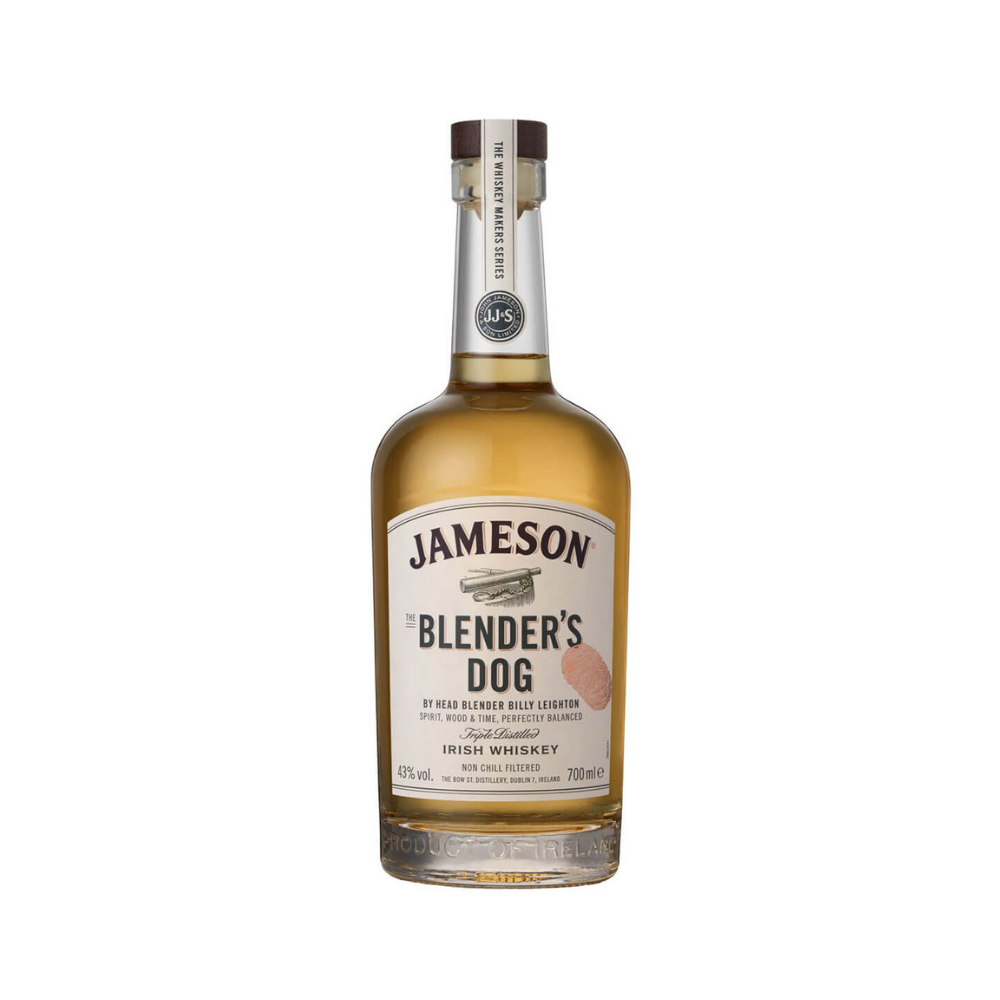 Jameson The Blender's Dog
Nose: From light citrus to pineapple, mango and kiwi notes, with the addition of figs and dates. A touch of walnut leads into the contribution of the seasoned American barrels and Spanish butts, vanilla and toasted oak.
Taste: A rich, round, creamy mouthfeel, with the sweetness of butterscotch, giving way to the prickle of the pot still spices. Succulent fruit brings the perfect balance as charred oak with some subtle tannin add to the complexity.
Finish: Exceptionally long, as the luscious fruit is slow to fade.
€11.00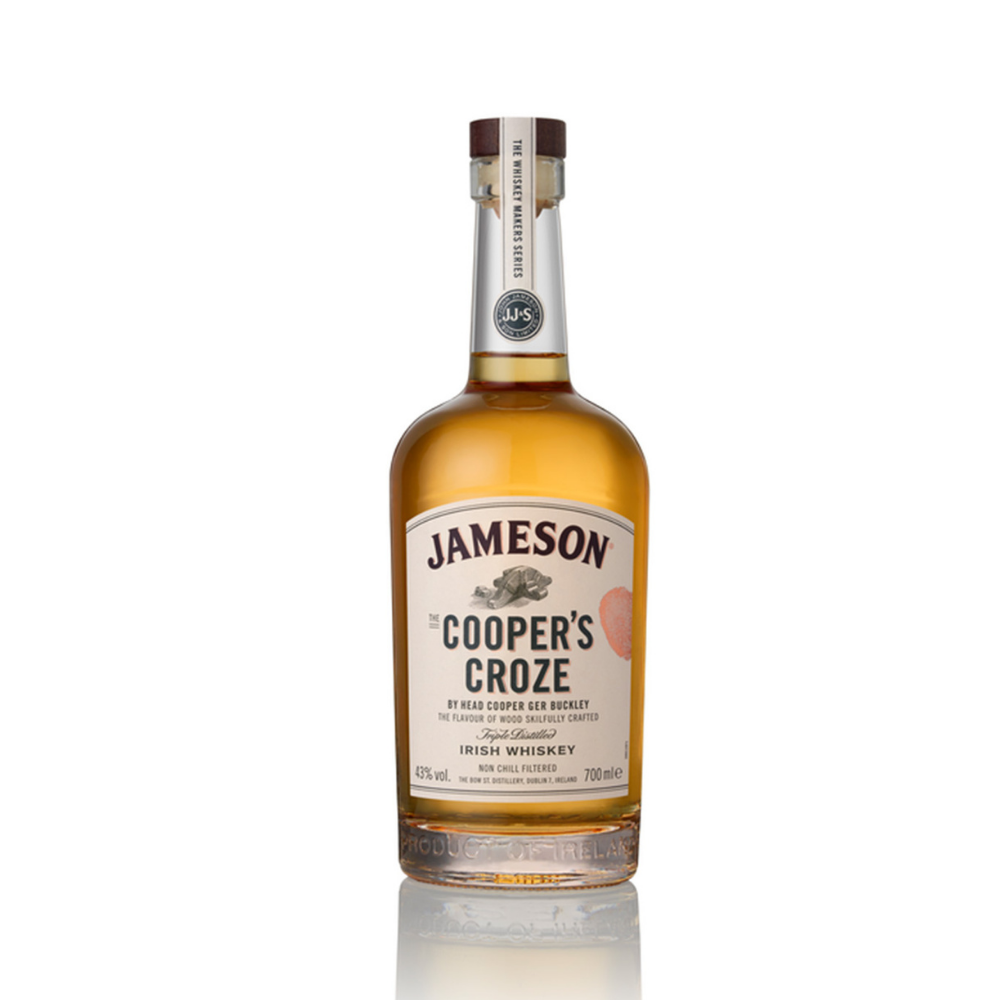 Jameson The Cooper's Croze
Nose: A subtle flower petal-perfume develops into rich ripe fruits, while some charred oak and cedar wood bring balance and complexity – a seamless infusion of American and Spanish oak character.
Taste: The initial impression is from the sweet vanilla of the American ex-bourbon barrels. This brings added depth to the rich fruits typical of the ex-oloroso sherry butts. A pleasant touch of hazelnut and toasted wood complement the pot still spices.
Finish: Pleasantly long, with vanilla sweetness slowly fading to barley grains with a touch of oak char.
€11.00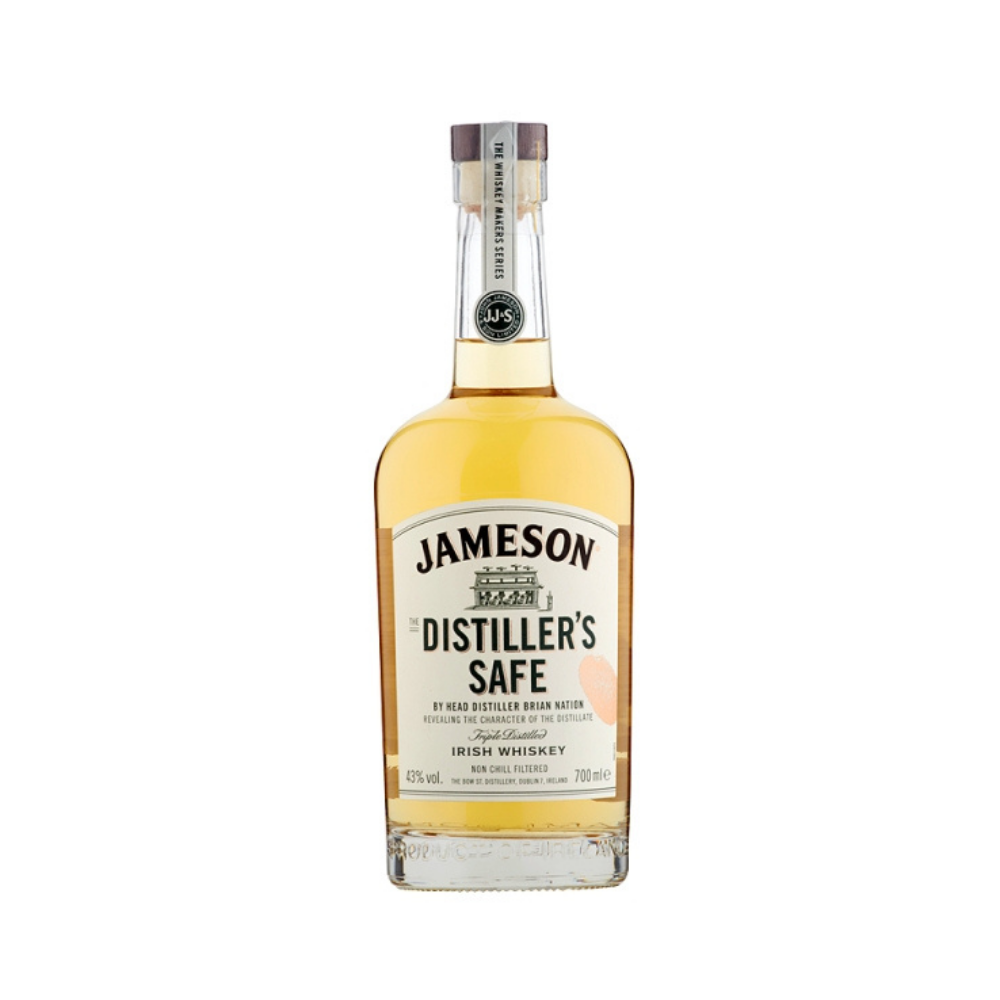 Jameson Distiller's Safe
Nose: From floral perfume, through fresh herbs, to lively spices, this special selection of distillates shows how the subtle delicate sweet notes of Irish grain whiskey can complement the more robust character of the Irish pot still whiskey. Barley sugar sweetness combines with the succulence of grapefruit and green pepper, with a touch of marzipan adding to the depth.
Taste: Starts off with barley sugar sweetness, progressing to hints of cinnamon and even a touch of liquorice. A vibrant note of mandarin orange appears alongside the nuttiness of ground almond.
Finish: Stays light and zesty, with barley making a late appearance.
€11.00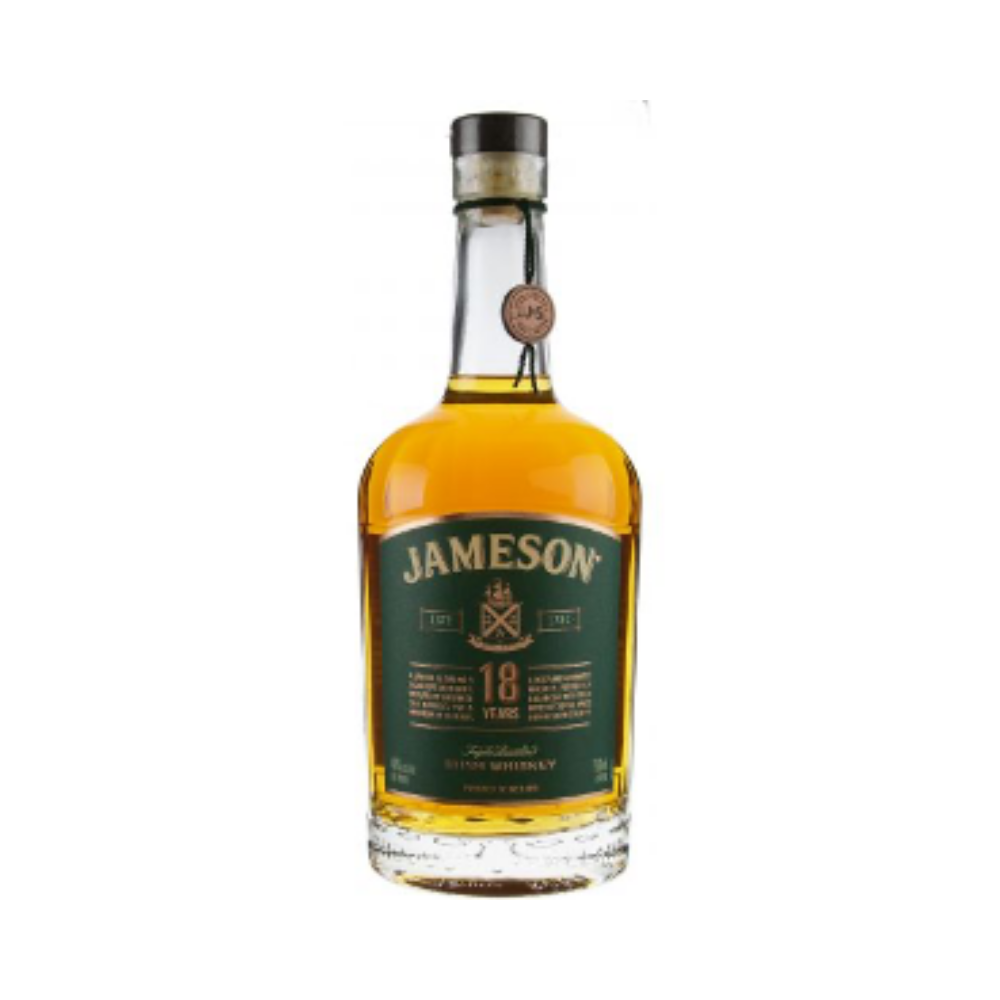 Jameson 18 Year Old
Nose: Aromatic oils with a touch of wood and spicy toffee.
Taste: Wonderfully mellow and smooth, a mouthful of complex flavours –toffee, spice, hints of wood and leather, gentle sherry nuttiness and vanilla.
Finish: A long lingering finish carries the theme of the wood, spice and toffee right through to the end.
€30.00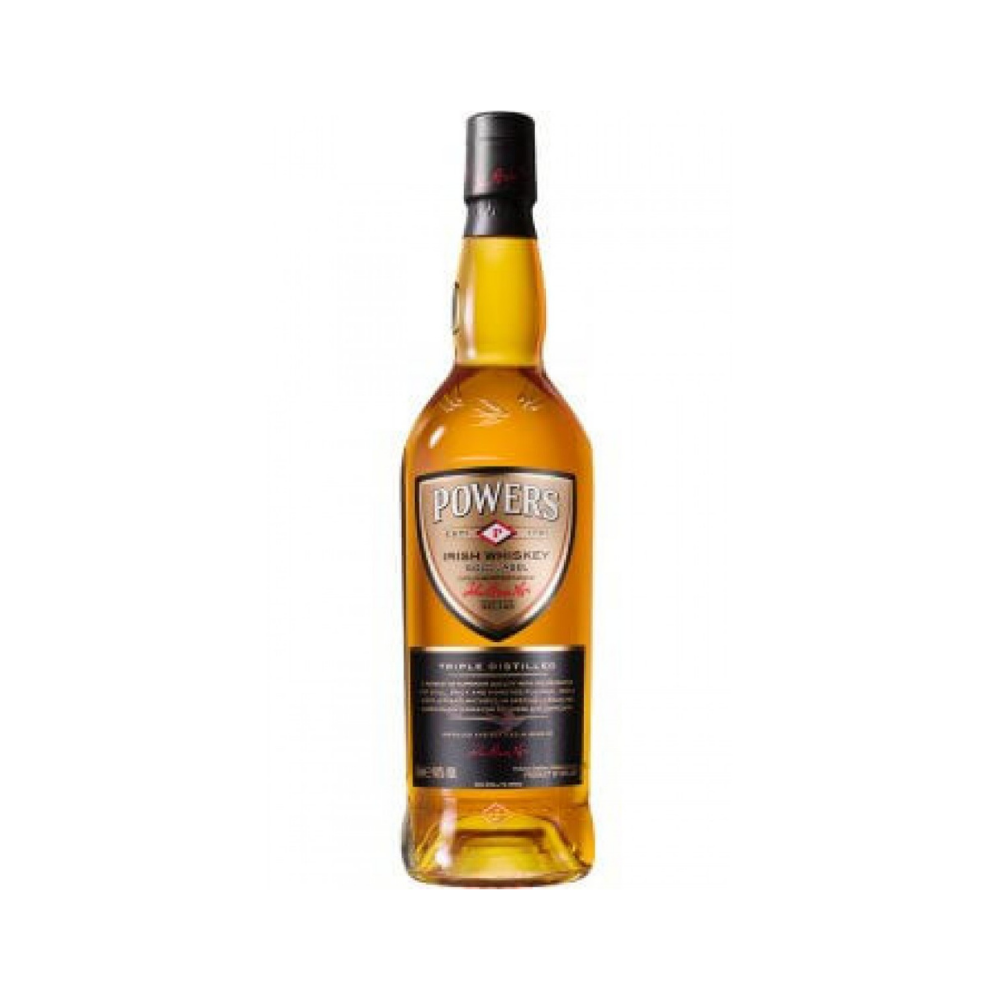 Powers
Nose: Cinnamon, clove oil and white pepper in balance with russet apples and ripe pears on a background of charred oak
Taste: Cinnamon, green peppers and a touch of nutmeg combined with orchard fruits, vanilla and toasted oak. All laid upon a crisp barley core
Finish: Long pot still oils and spices slowly fade to rich barley, toasted wood and a wonderfully complex honey flavour
€5.00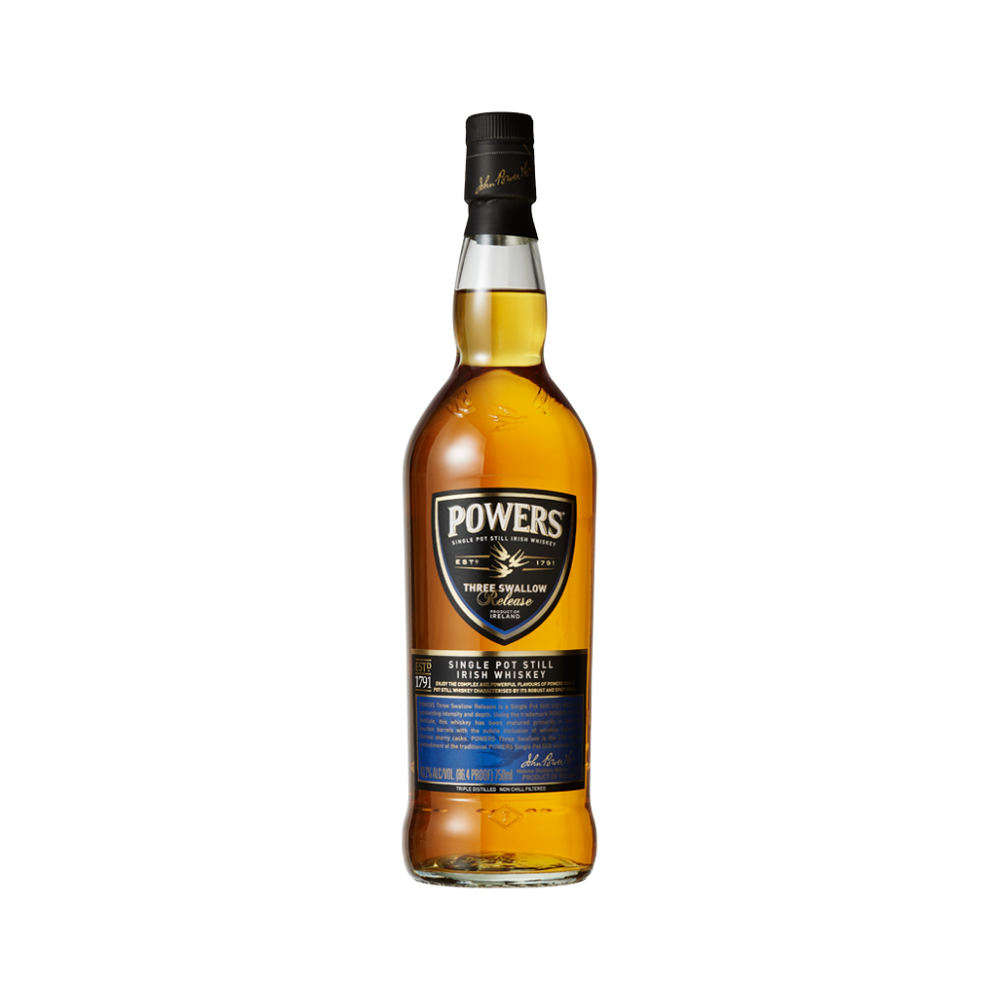 Powers Three Swallow Release
Nose: Pot Still spice combines with crisp barley character. Delicate herbs give way to green banana and grapefruit while a nutty note of marzipan reflects the wood contribution of specially selected casks.
Taste: In true Pot Still style, an initial taste delivers smooth mouth-coating barley followed by an eruption of green apple and citrus notes. Herbs and spicy avour are complemented by a touch of cedar wood for extra complexity.
Finish: Spicy sweetness gives way to Pot Still barley character balanced with a hint of sherry and leading to a crisp cereal finish with toasted oak notes.
€8.70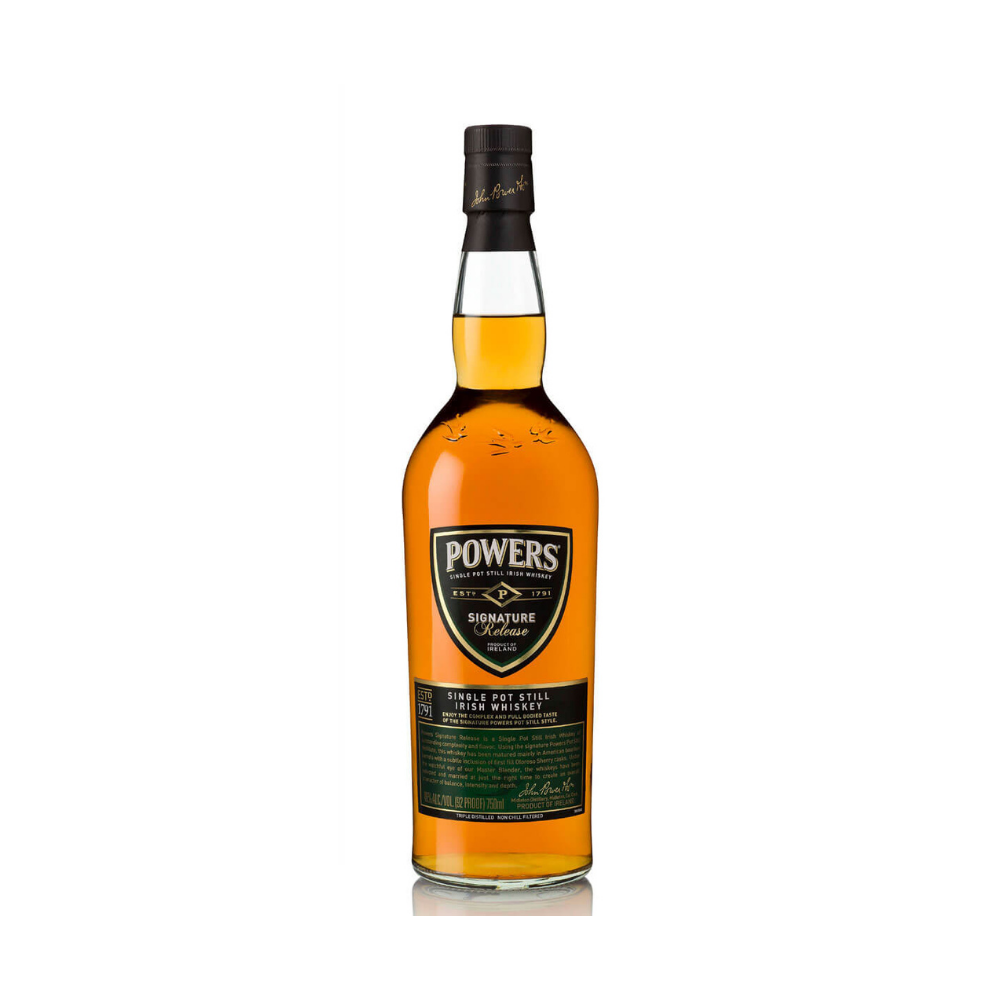 Powers Signature Release
Nose: Fresh and vibrant with aromas of green and red fruits plus some hints of green herbs, boiled sweets and toast.
Taste: Sweet and vibrantly fruity. Lots of spicy, toasty oak and some tannic bitterness. Bittersweet chocolate, green herbs and coffee.
Finish: Long and wonderfully complex honey and spice.
€8.70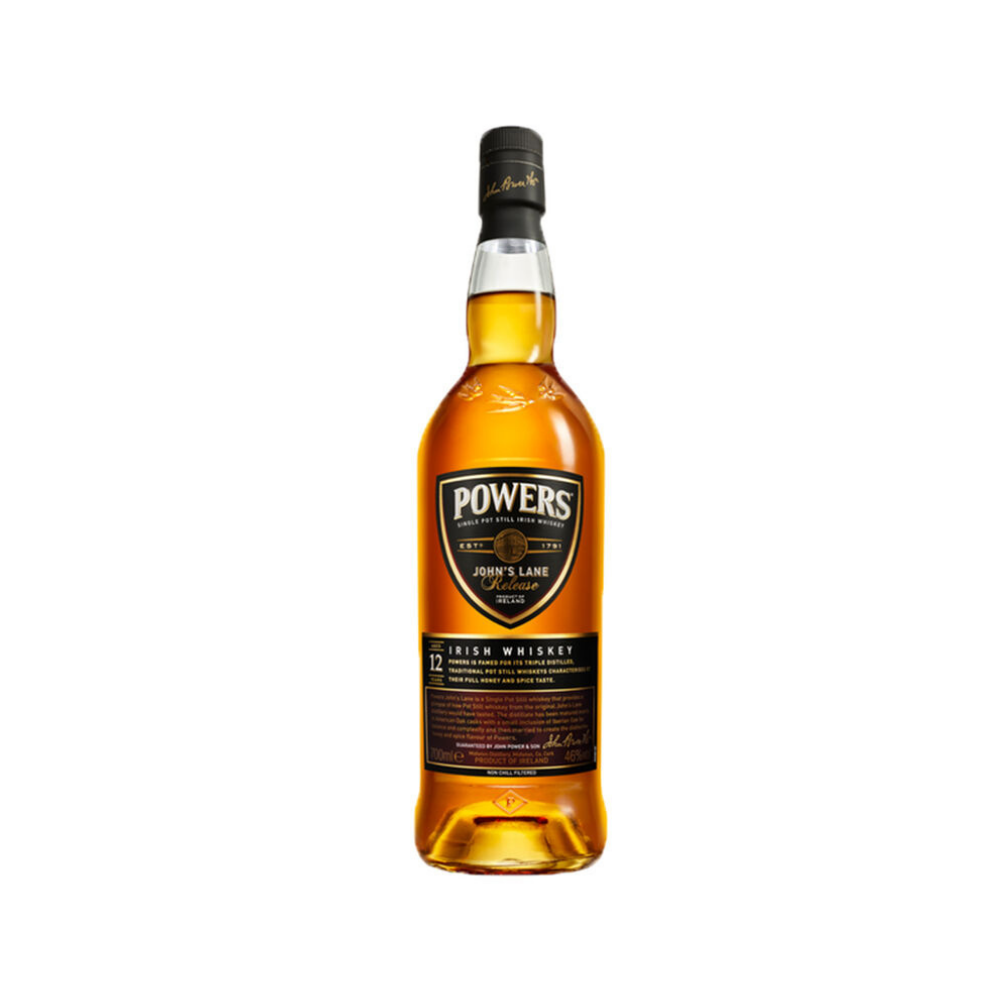 Powers John Lane Release
Nose: An abundance of earthy aromas, leather, tobacco with layers of charred wood, dark chocolate and treacle toffee.
Taste: Full bodied spice front followed by vanilla, honey and dried apricot.
Finish: Lingering honey sweetness on toasted oak.
€11.00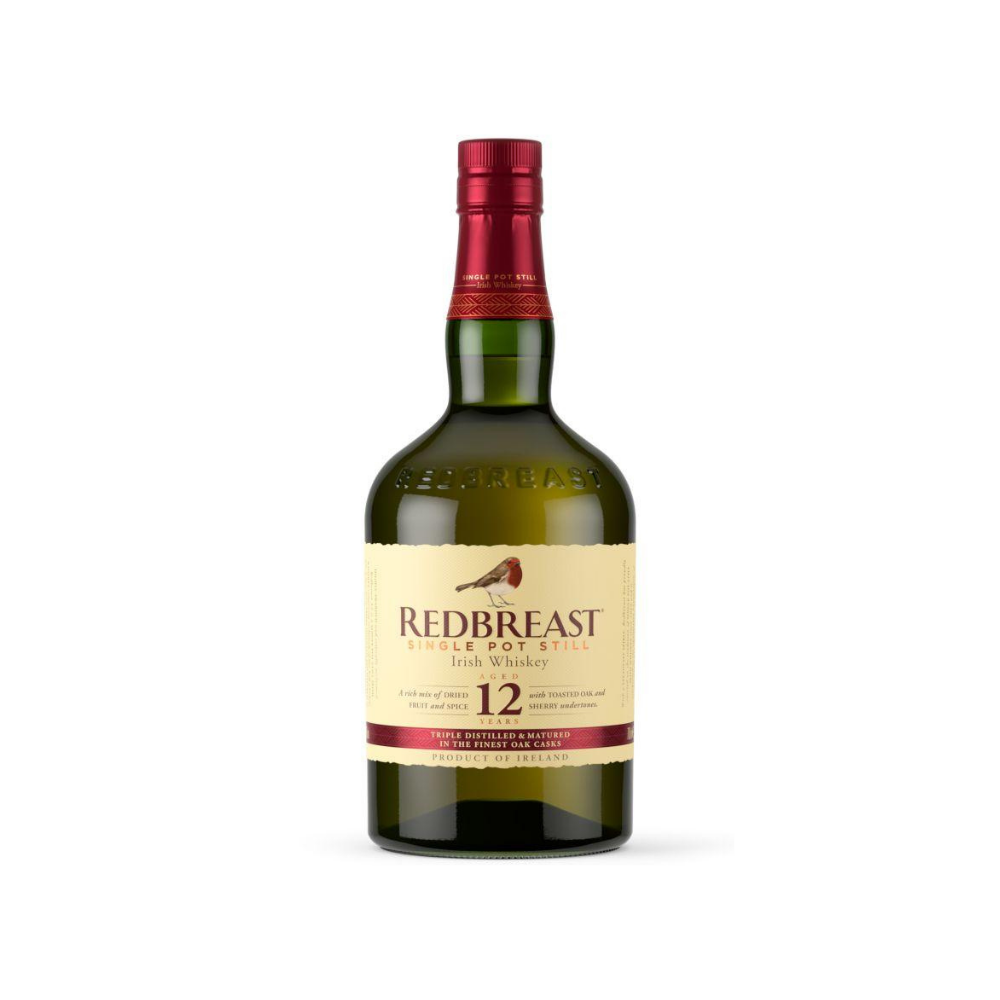 Redbreast 12 Year Old
Nose: A complex spicy and fruity aroma with toasted wood notes evident.
Taste: Full flavoured and complex; silky smooth with a harmonious balance of spicy, fruity, sherry and toasted notes.
Finish: Satisfyingly long, the complex flavours linger on the palate.
€9.80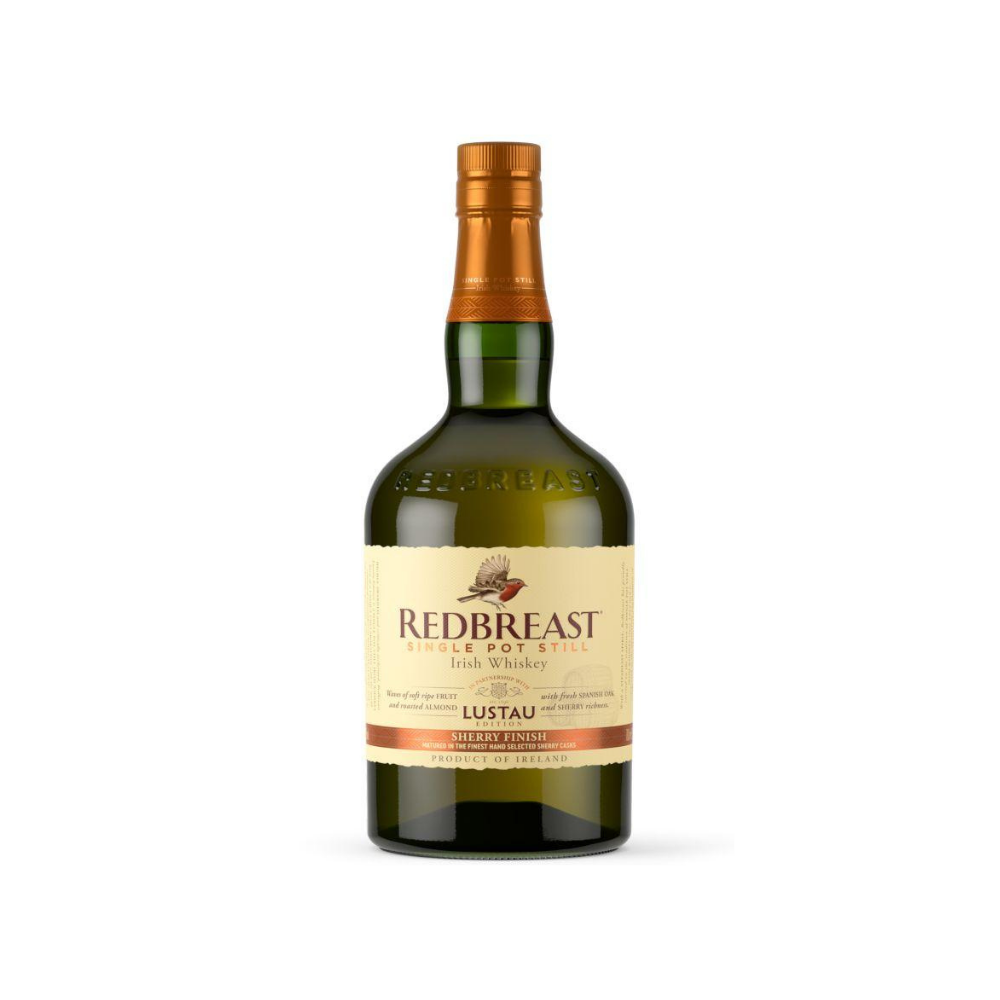 Redbreast Lusteau
Nose: Rich infusion of dark fruits, prunes, dates and figs with liquorice, marzipan, toasted oak and aromatic spices.
Taste: Silky smooth Pot Still; assertive spices balanced with richness of the sherry finish and contribution of fresh Spanish Oak.
Finish: Endless. Sweetness and assorted spices endure while Oloroso Sherry and Spanish Oak have the last word.
€11.50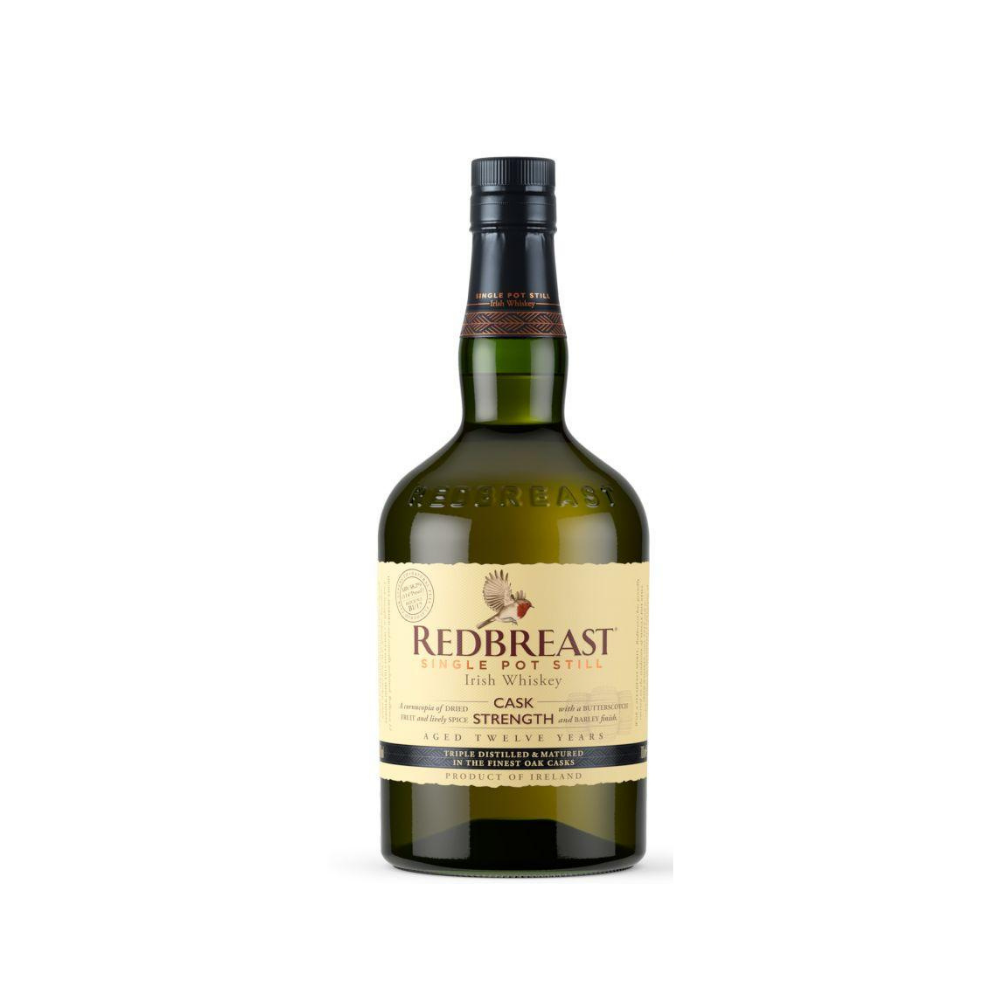 Redbreast 12 Year Old Cask Strength
Nose: Succulent exotic fruit with a little citrus, complementing deeper notes of dried apricot and sultana. Infusion of assorted spices and toasted wood.
Taste: Rich, fully rounded and mellow with luscious fruit and spices. Sweetness of vanilla and a touch of oak.
Finish: Satisfyingly long with the sophisticated combination of fruit and spices slowly giving way to toasted oak, then barley.
€14.75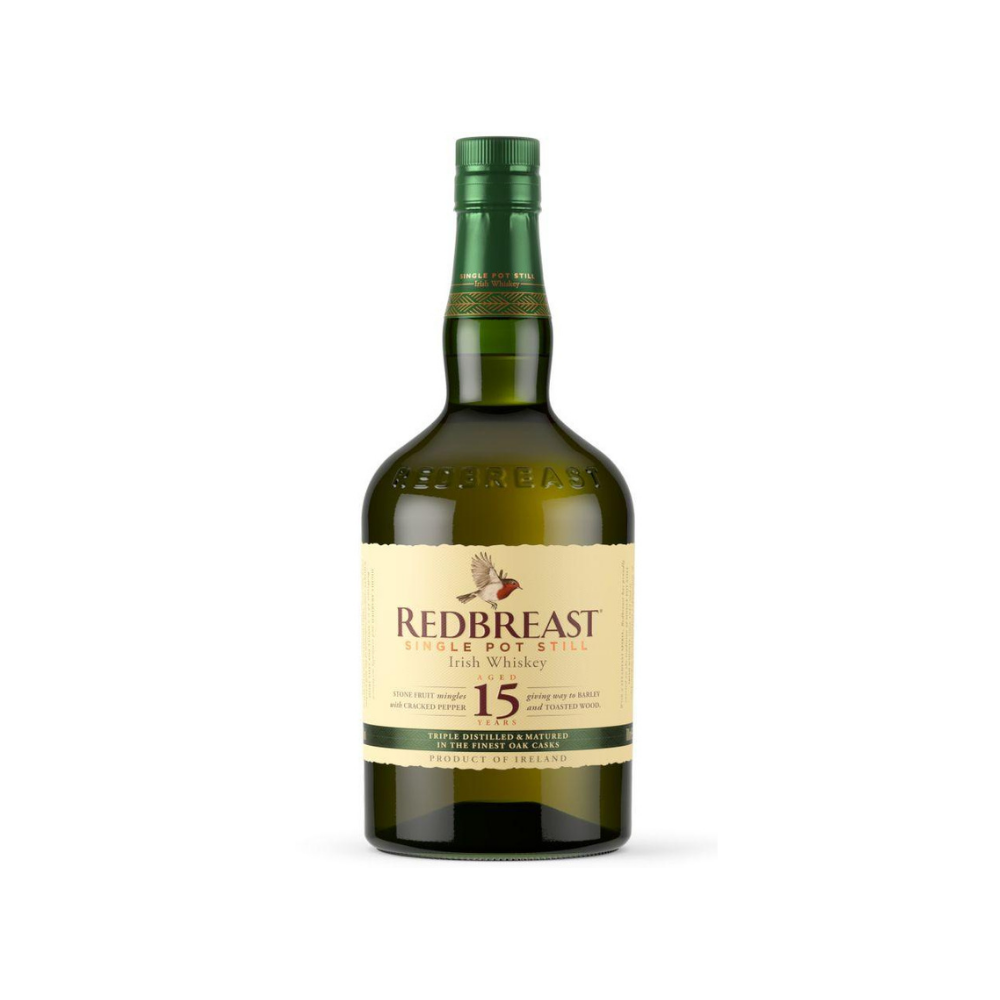 Redbreast 15 Year Old
Nose: Full and rich with a complex yet balanced mix of berry fruits and aromatic oils.
Taste: Fully round and mellow with the succulence of fleshy fruit combined with spices and toasted wood.
Finish: Long and sophisticated.
€16.00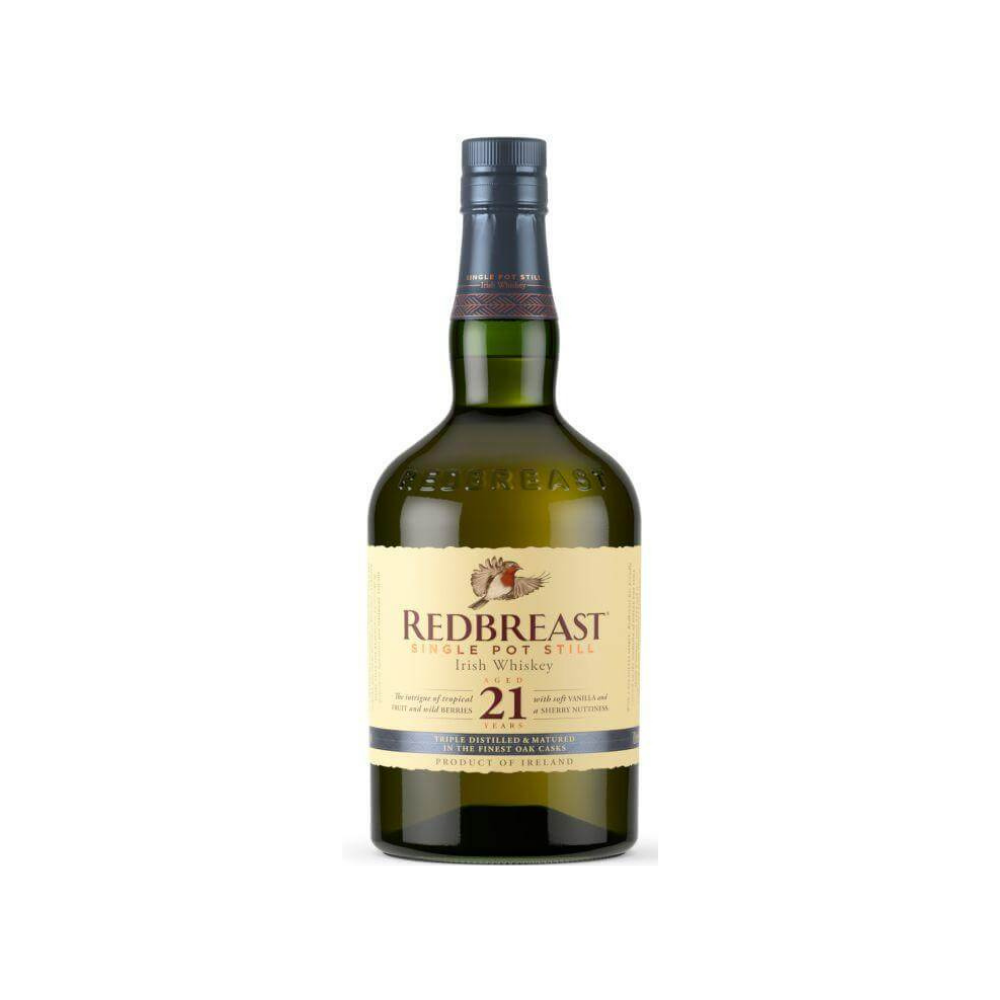 Redbreast 21 Year Old
Nose: Remarkable aroma spanning fresh tropical fruits, nuts and rich dried fruit.
Taste: Soft vanilla, toasted oak, sherry nuttiness with a dusting of spices. Luscious fleshy fruit notes complete the silky mouthfeel.
Finish: Lingers, seemingly forever, with oak and an assortment of spices and then, the final bow from barley – where it all began.
€28.00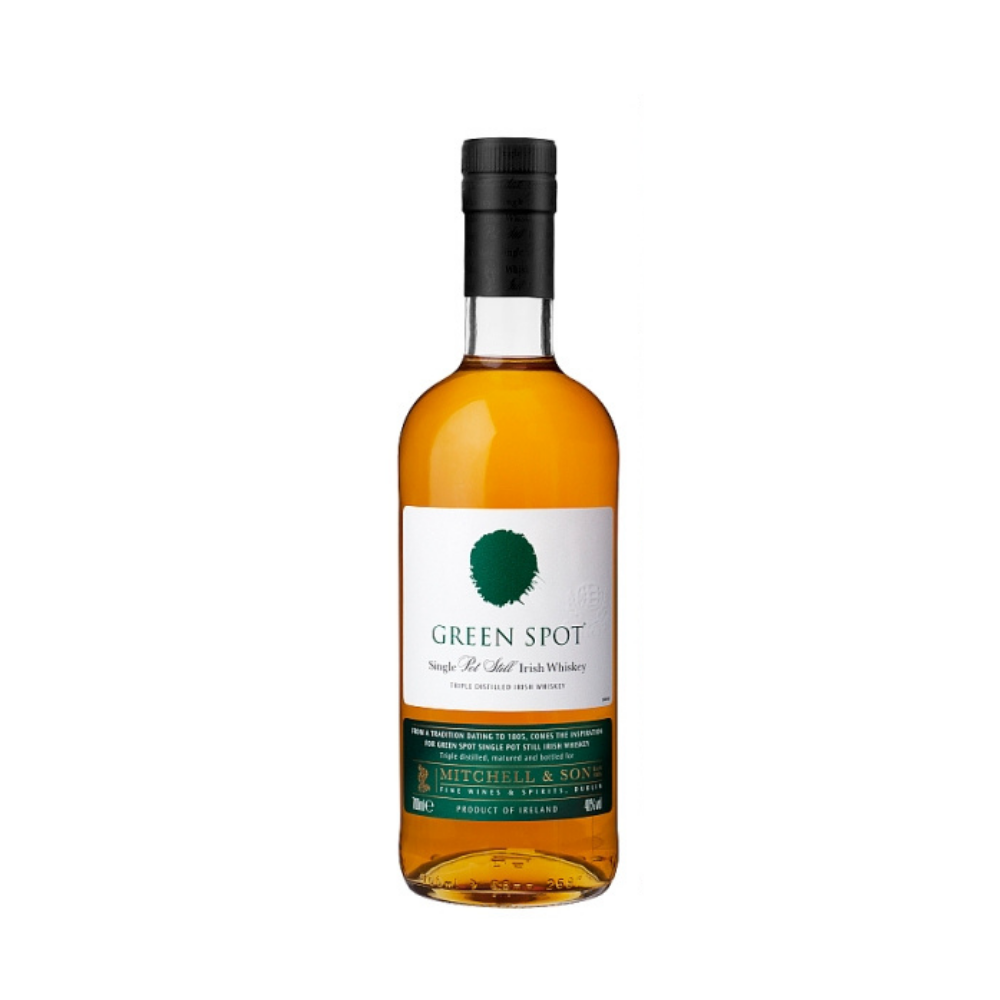 Green spot
Nose: Fresh aromatic oils and spices with orchard fruits and barley on a background of toasted wood.
Taste: Full spicy body with a honeyed sweetness. A hint of cloves along with the fruity sweetness of green apples, rounded off with toasted oak.
Finish: Lingering flavours of spices and barley.
€8.50
Yellow spot
Nose: Fresh aromatic oils and spices with orchard fruits and barley on a background of toasted wood.
Taste: Full spicy body with a honeyed sweetness. A hint of cloves along with the fruity sweetness of green apples, rounded off with toasted oak.
Finish: Lingering flavours of spices and barley.
€11.00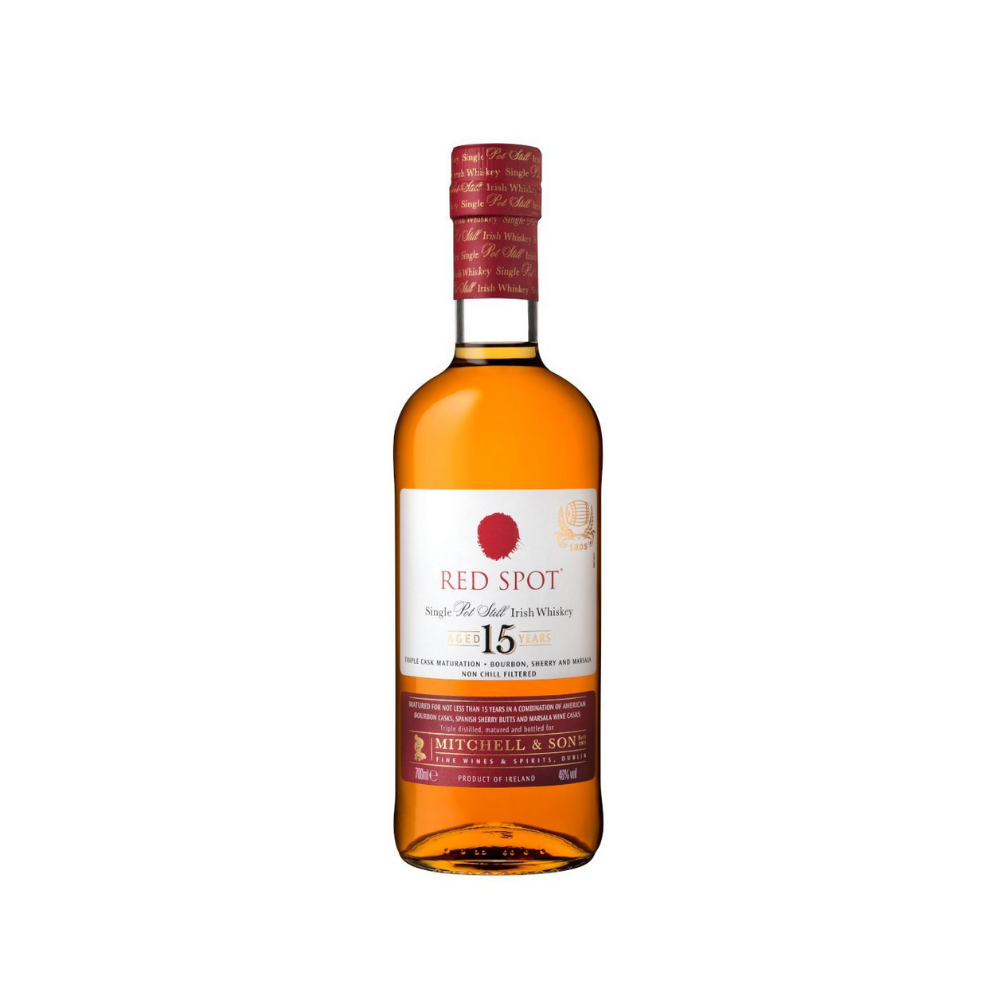 Red spot
Nose: Pot Still spices with rich cooked fruit, baked apple, mango and black cherry. Hazelnut and a touch of new leather fuse with toasted American Oak.
Taste: A mix of ripe fruit sweetness from the Marsala seasoned wine casks. While the fruit remains, sweet red pepper and cracked black pepper add some spiciness, finished by notes of American Oak and barley.
Finish: An extra long infusion of fruits and spices.
€18.00
Method & Madness Single Grain
Nose: New Pencil Shavings, Light Rose Petal & Fresh Rain on Pine
Taste: Warm Toasted Oak, Fresh Peeled Grapefruit & Zesty Wood Spices
Finish: Sweet Cereal, Clove Spiciness & Fresh Mint
€8.50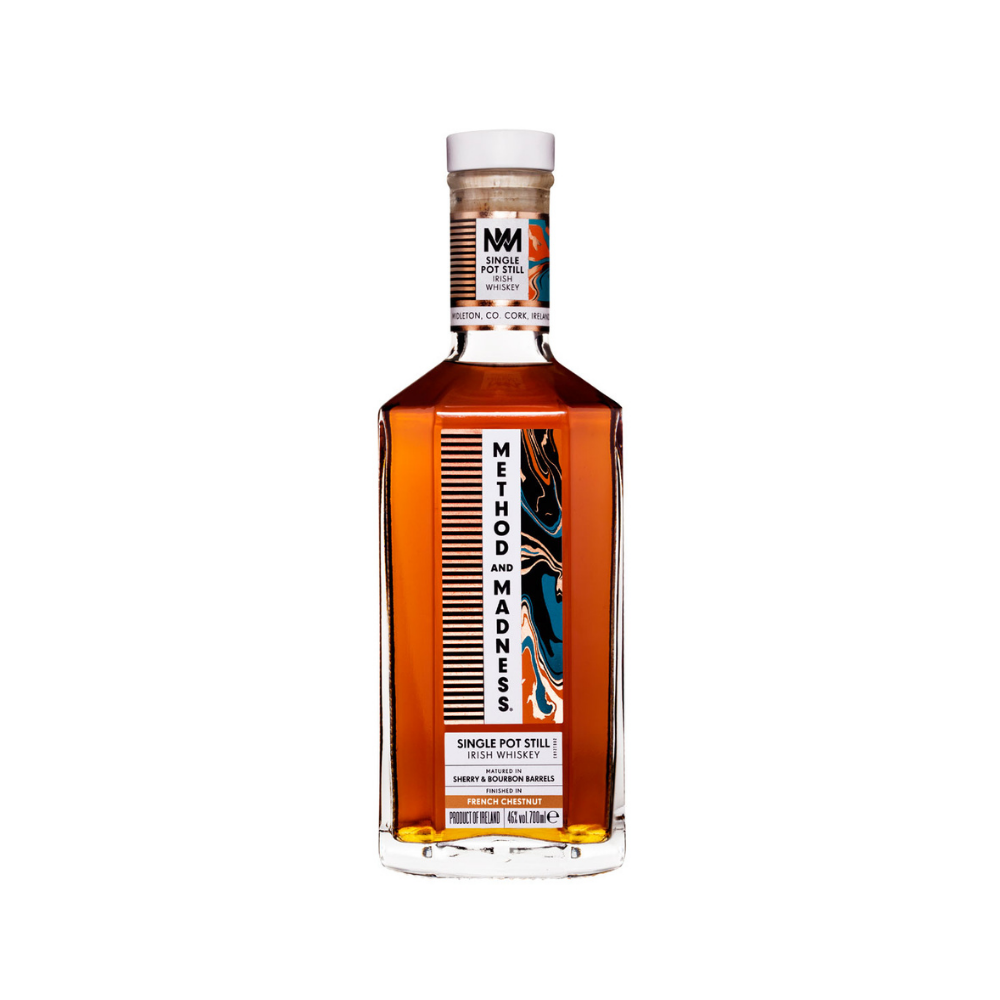 Method & Madness Single Pot Still
Nose: Red liquorice laces, fresh rosemary & mint, grated root ginger
Taste: Sweet fruit & spice, cinnamon toast & ripe banana
Finish: Aromatic green tea, dissipating fruit and spice with a rich wood farewell
€11.00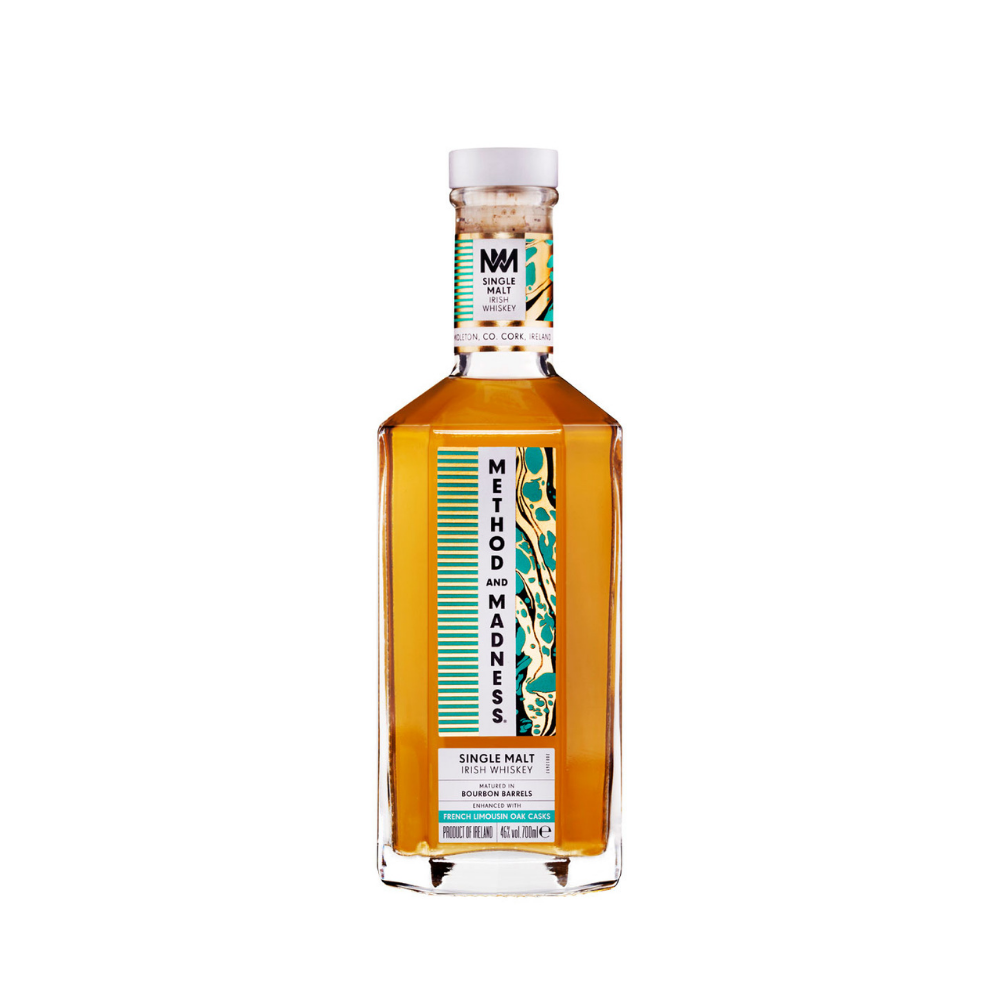 Method & Madness Single Malt
Nose: Freshly Shelled Peanut & Cereal Malt Aroma
Taste: Cracked cinnamon stick & ice cream cone wafer
Finish: Fragrant bon bon's & a hint of toasted barley
€13.00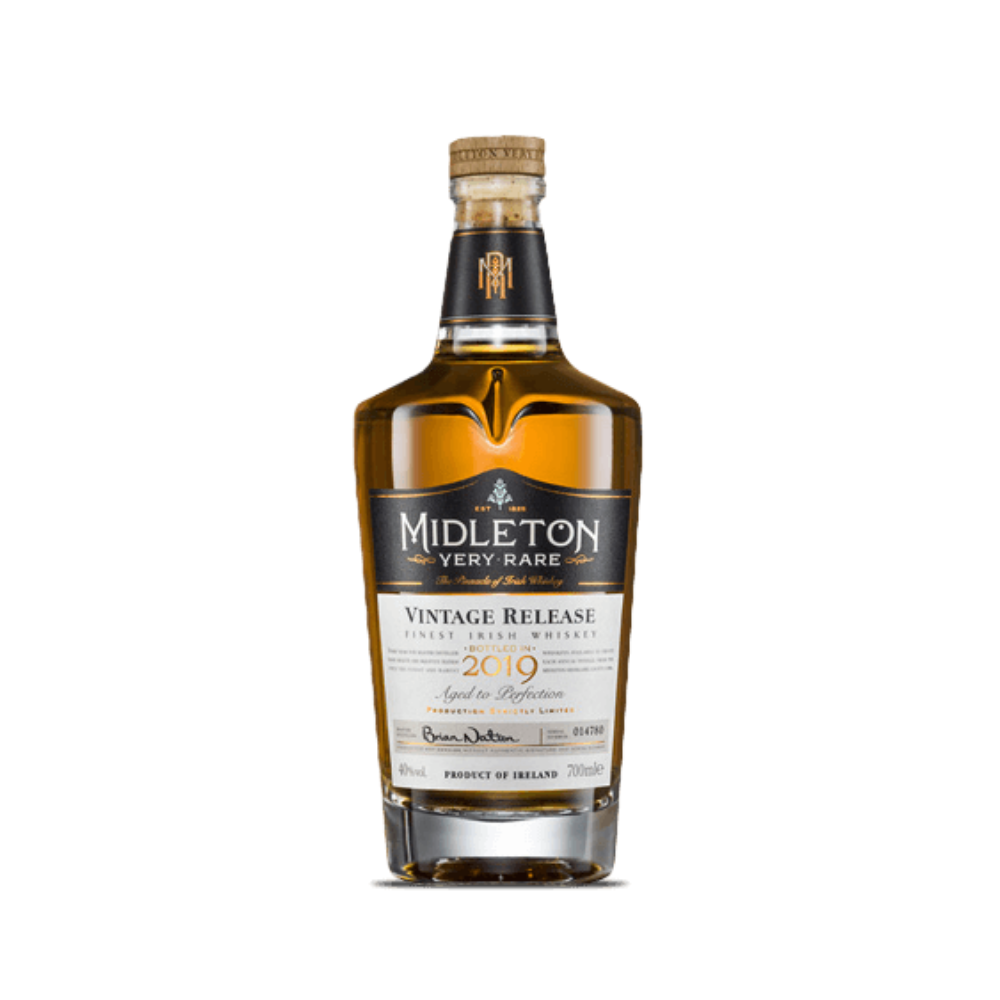 Midleton Very Rare
Nose: A rich, full pot still character with touches of ripe juicy sultanas, yeasty fruitiness and acacia honey.
Taste: A sweet crisp, truly unique taste. A maltiness is first apparent and then the richness of honey, berry fruits and hints of clementines to the fore.
Finish: A very long finish with a pleasantly peppery finale.
€26.00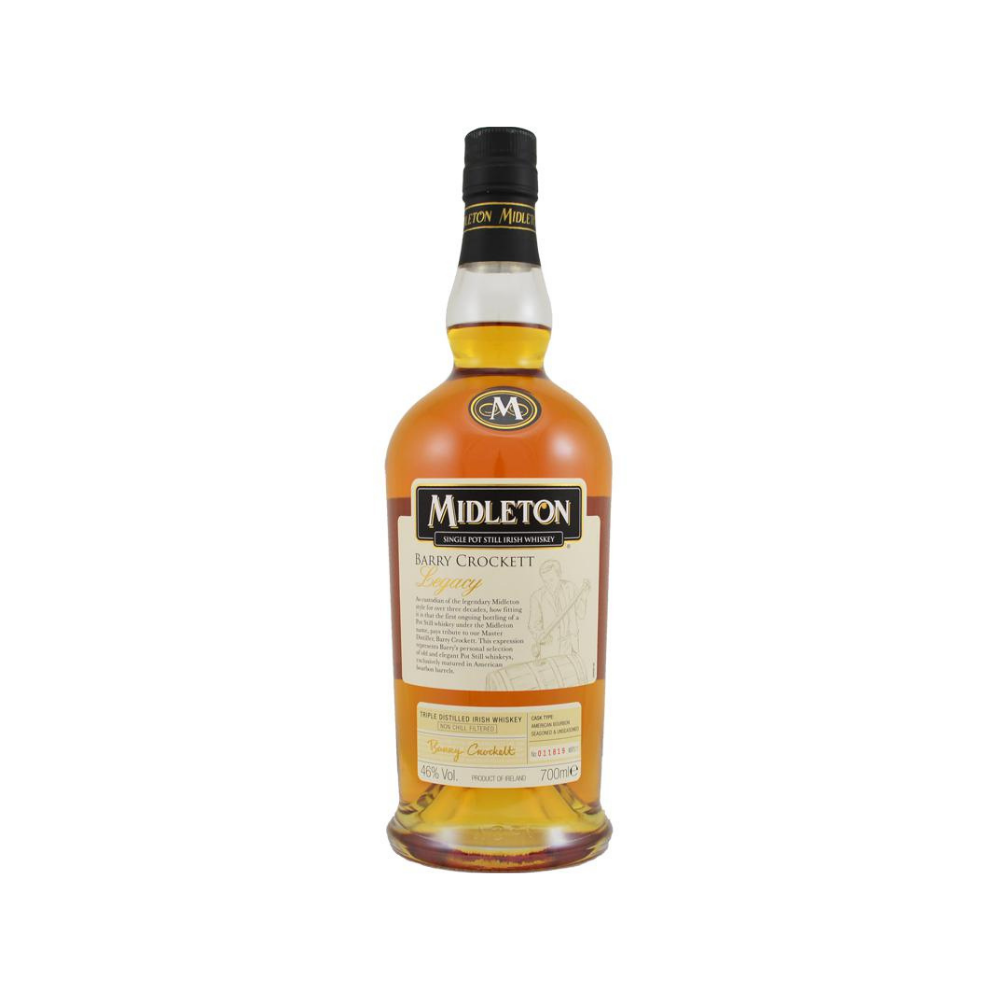 Midleton Barry Crocket
Nose: Elegant aroma of vanilla and toasted oak complimented by a touch of lime, succulent green berries, pears and green sweet pepper.
Taste: Light pepper carries onto fresh citrus, limes and mandarin orange sweetness. A hint of cinnamon with vanilla and oak reveals its years spent in American oak.
Finish: The full spectrum of flavours lasts well into the finish, slowly fading to expose the clean American oak foundation.
€39.00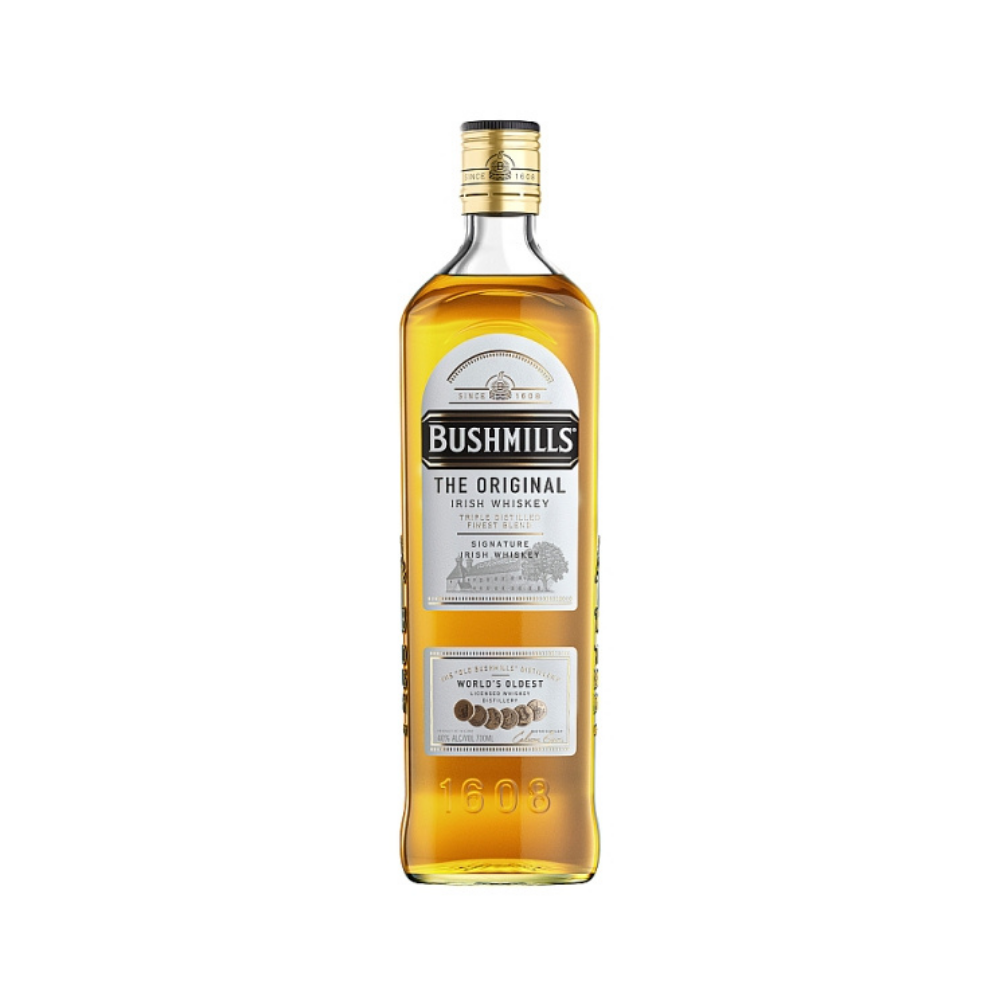 Bushmills
Nose: Aromatic, sweet Riesling-like quality to this. Also cut herbs and blossom.
Taste: Fruity, aromatic palate. Salty butter, all kinds of blossom, sweet vanilla cream and citrus.
Finish: A malty finish with cardamom and ginger on the tail.
€5.00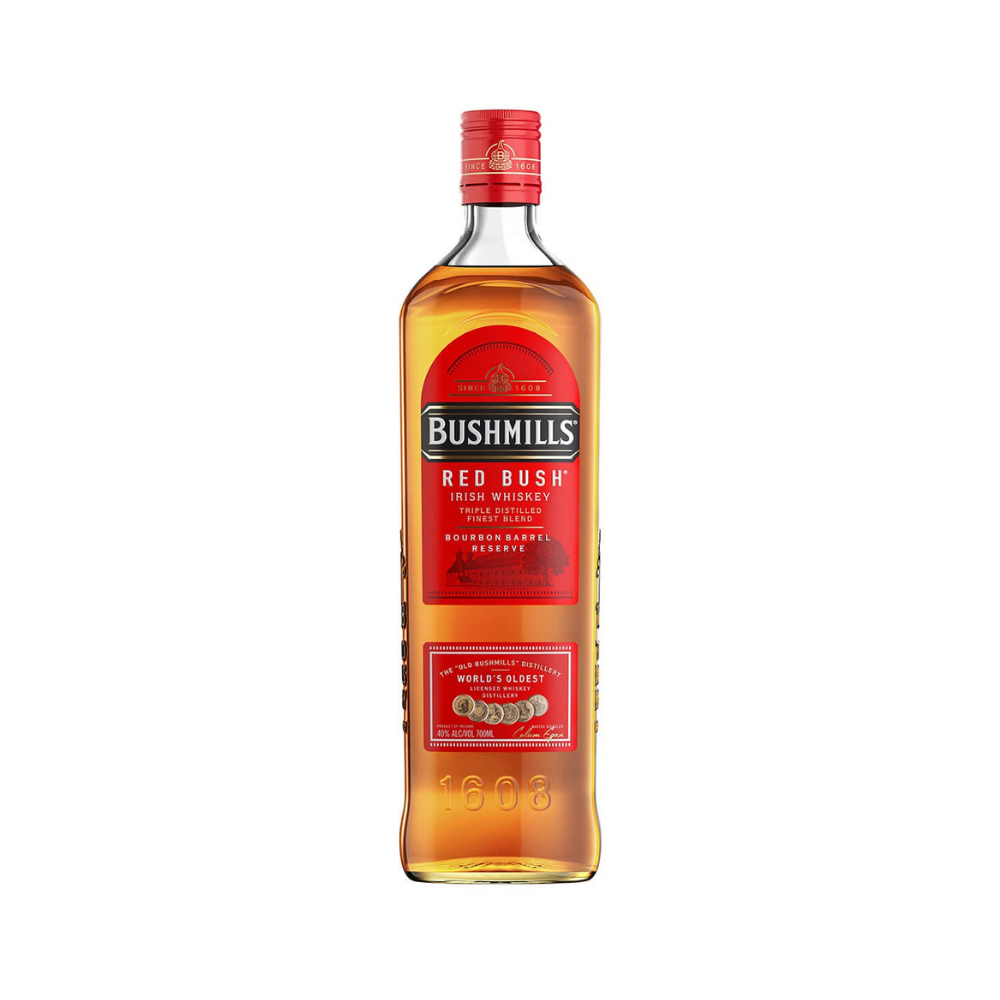 Bushmills Red
Nose: A floral bouquet with lovely biscuity malt and apple crumble alongside lots of cinnamon and vanilla custard, with a touch of honeydew melon fruitiness.
Taste: Butterscotch, nutmeg and vanilla, with hot buttered toast and a good helping of floral honey, and earthy oak makes an appearance.
Finish: A short and dry finish, full of tannic spicy oak.
€5.00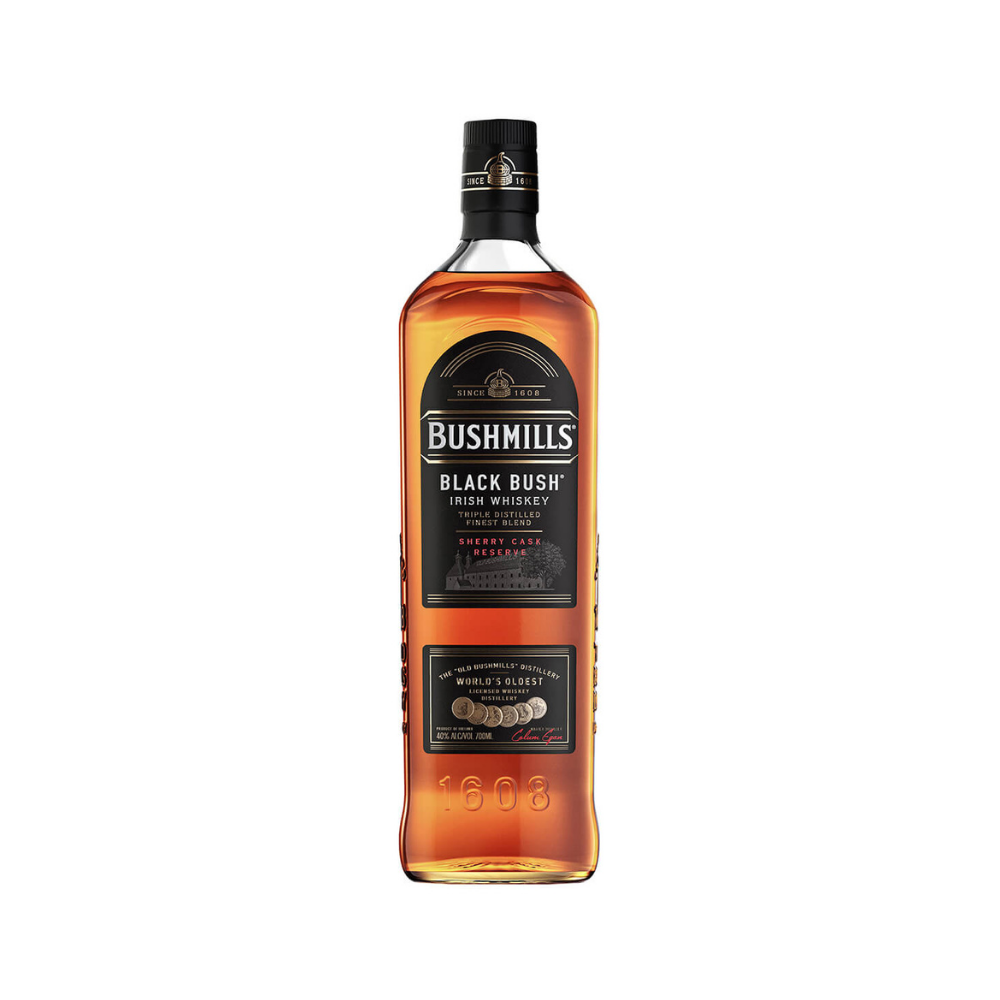 Bushmills Blackbush
Nose: Over-ripe grape and light citrus on the nose. A touch of toffee and peanut.
Taste: Vanilla and milk bottle sweeties. Dried peels, chamomile tea and cinnamon sticks.
Finish: Digestive biscuit, cooked plum and orange oil.
€5.50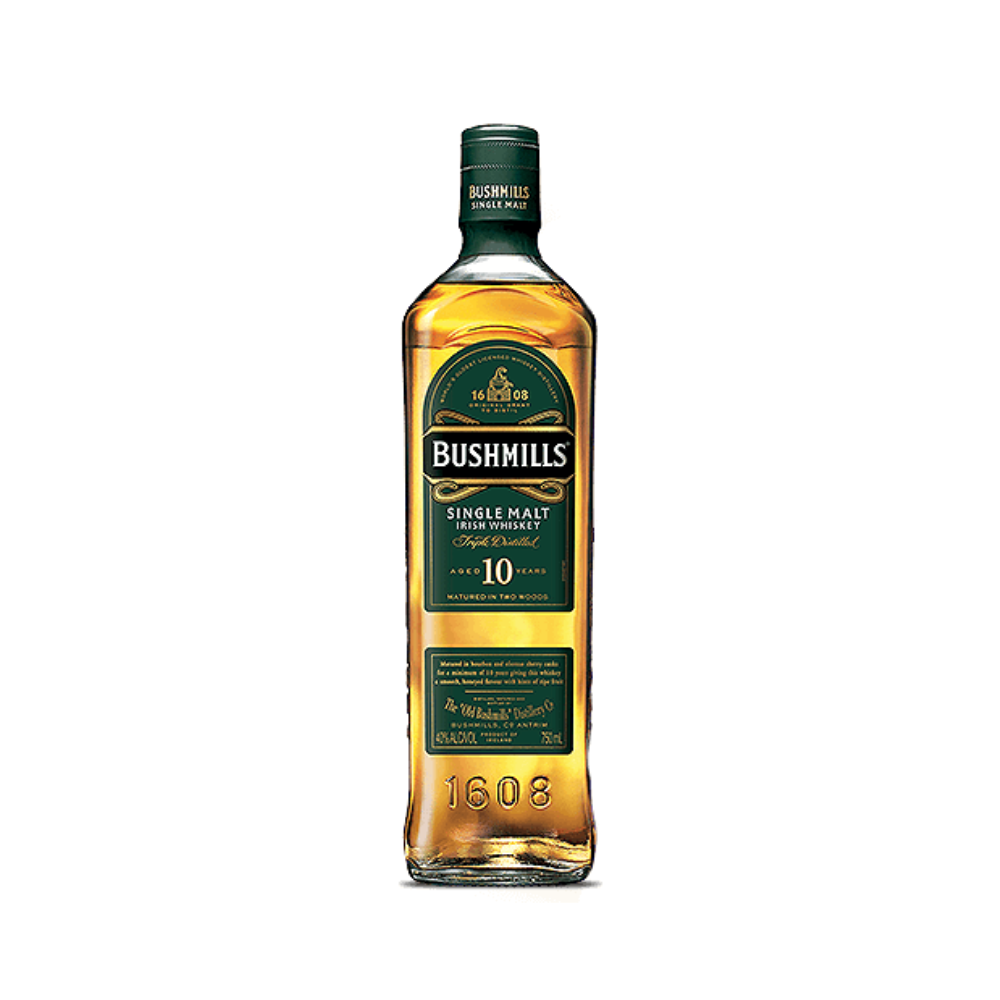 Bushmills 10 Year Old
Nose: Fresh and zesty honey, ripe fruit, vanilla and milk chocolate.
Taste: Soft vanilla, milk chocolate and toasted wood.
Finish: Crisp, clean and gently drying.
€8.00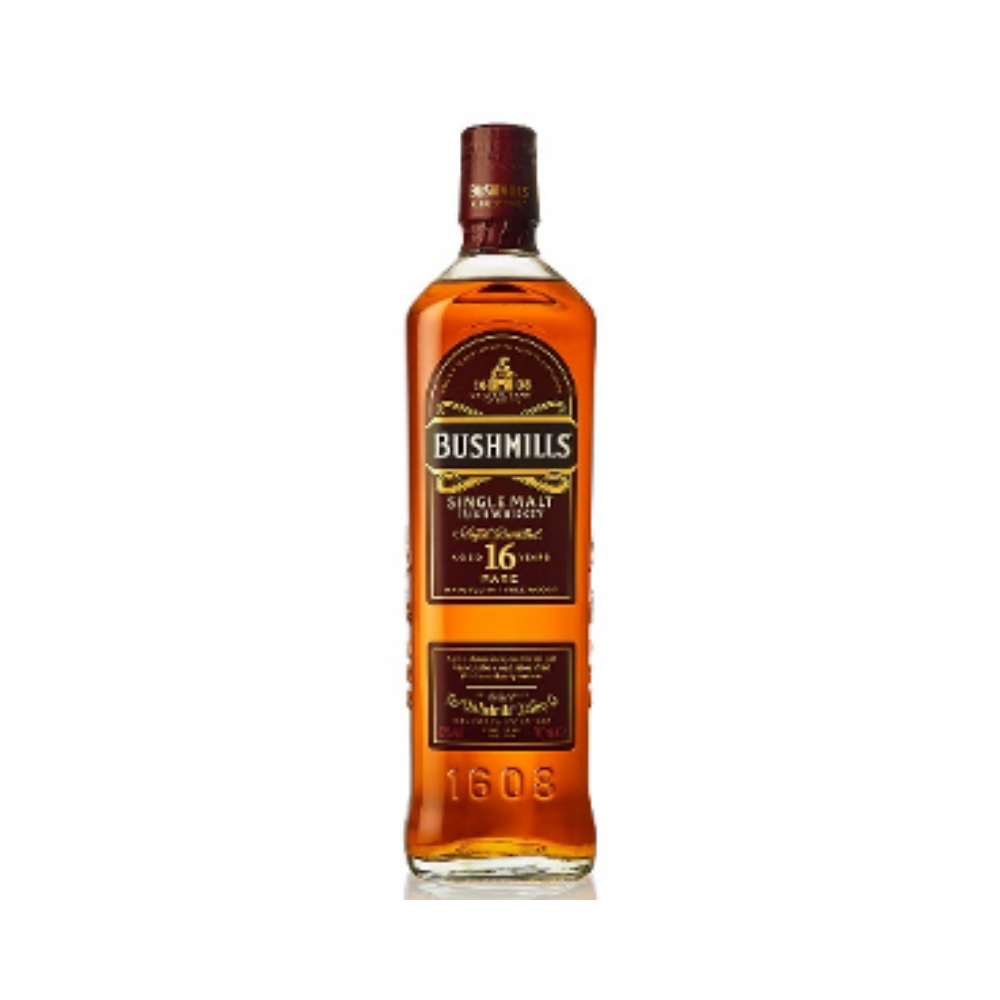 Bushmills 16 Year Old
Nose: An exquisite belt of exotic spices, cut with rich cigar smoke.
Taste: A rich start sets off tangerines, cocoa and spicy port notes. This whiskey keeps unfolding as you hold it in the mouth. Later, nutty toffee and cocoa arrive.
Finish: The port really makes itself felt here. Very dry, yet sweet. Hints of bitter chocolate.
€14.00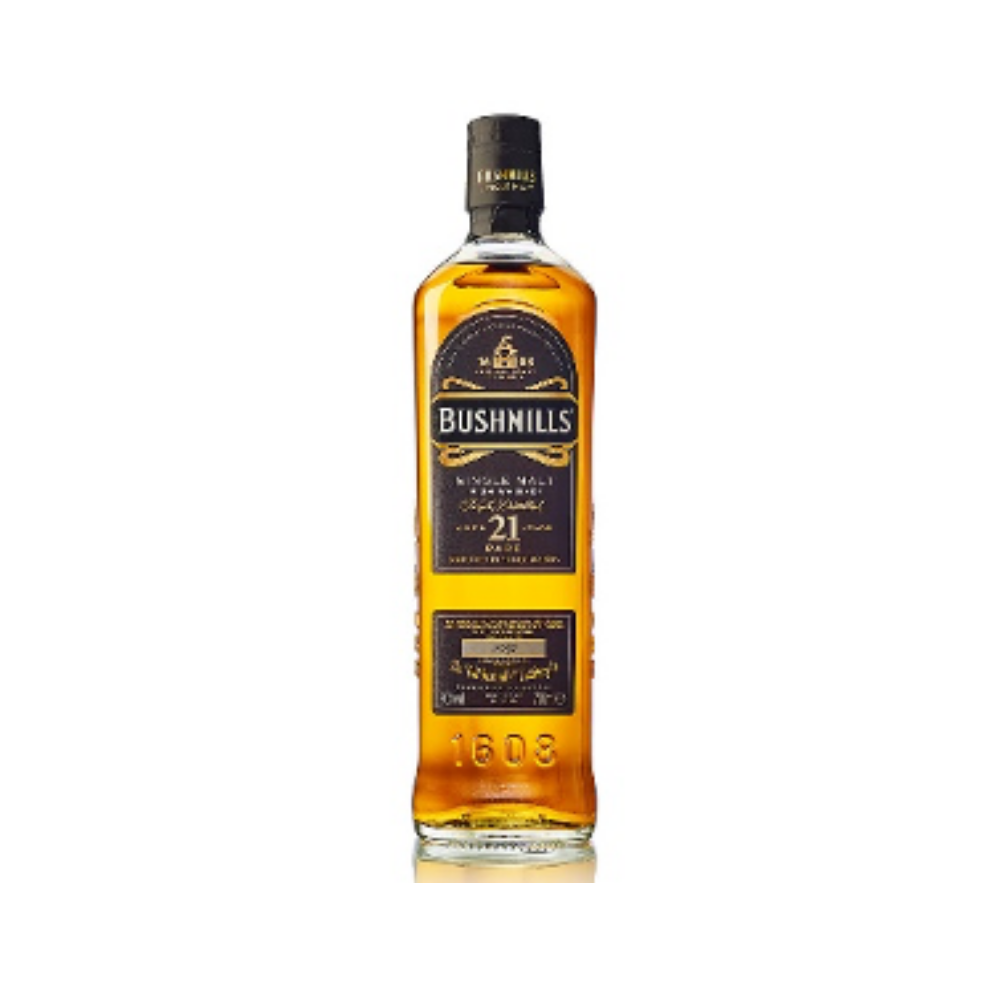 Bushmills 21 Year Old
Nose: Rich toffee, honey, spiced fruit notes and dark mocha.
Palate: Chewy, dates, pecans, grapes and mango.
Finish: Sweet, syrupy pipe tobacco and mint.
€29.00
Tullamore Dew
Nose: Honey, red apples, dried fruit, banana chips, toffee and a touch metallic and malty.
Taste: Honey, banana chips, red apple, toffee, earthy malt, nutmeg and a touch cinnamon and copper. The darker earthy notes are what help it stand out.
Finish: Medium fade out of malt, toffee, dried fruit and spice that fades out to a metallic and alcohol heavy note.
€5.00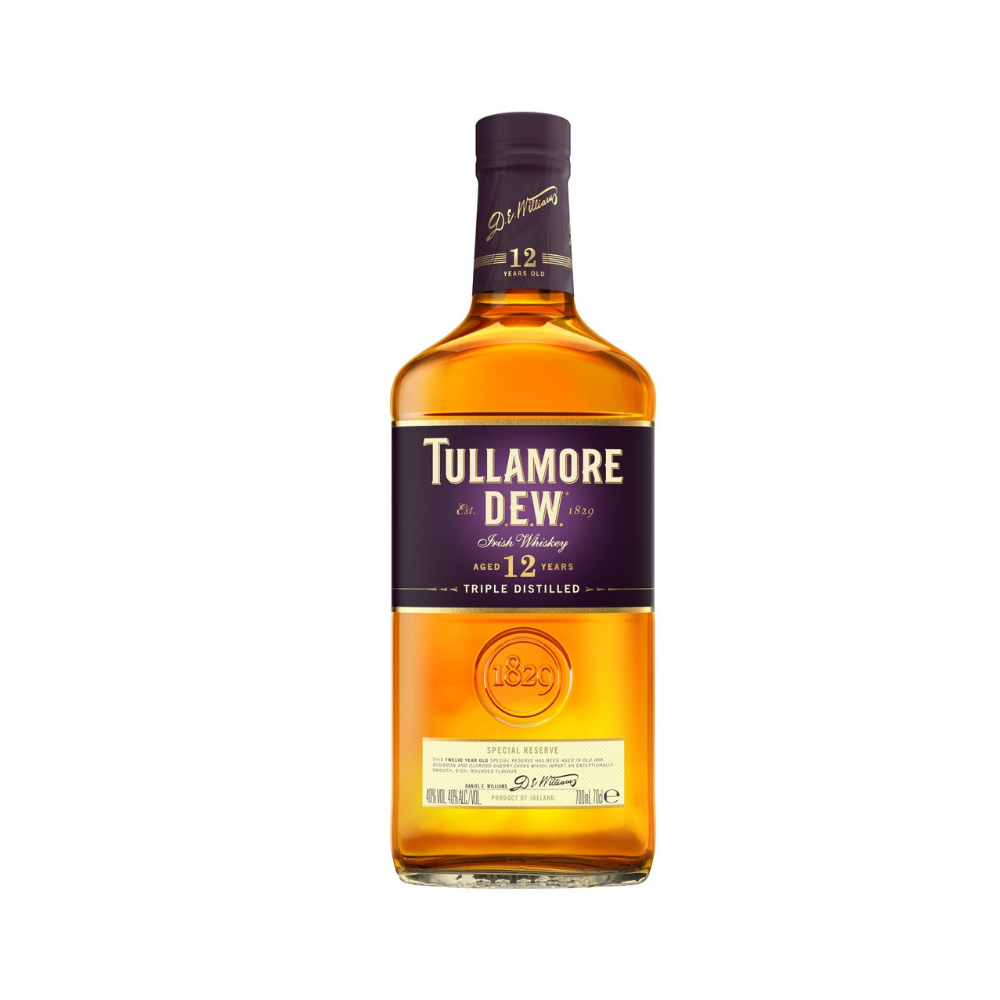 Tullamore Dew 12 Year Old
Nose: Smooth and full with woody undertones, giving way to sweet oloroso and just a touch of spice.
Taste: Medium intensity, malty, spicy, toasted wood and vanilla notes. Complex flavours with sweet nuttiness, faint notes of Christmas cake and a hint of lemon.
Finish: Pleasantly dry finish with slightly lemony and sweet notes lingering.
€7.00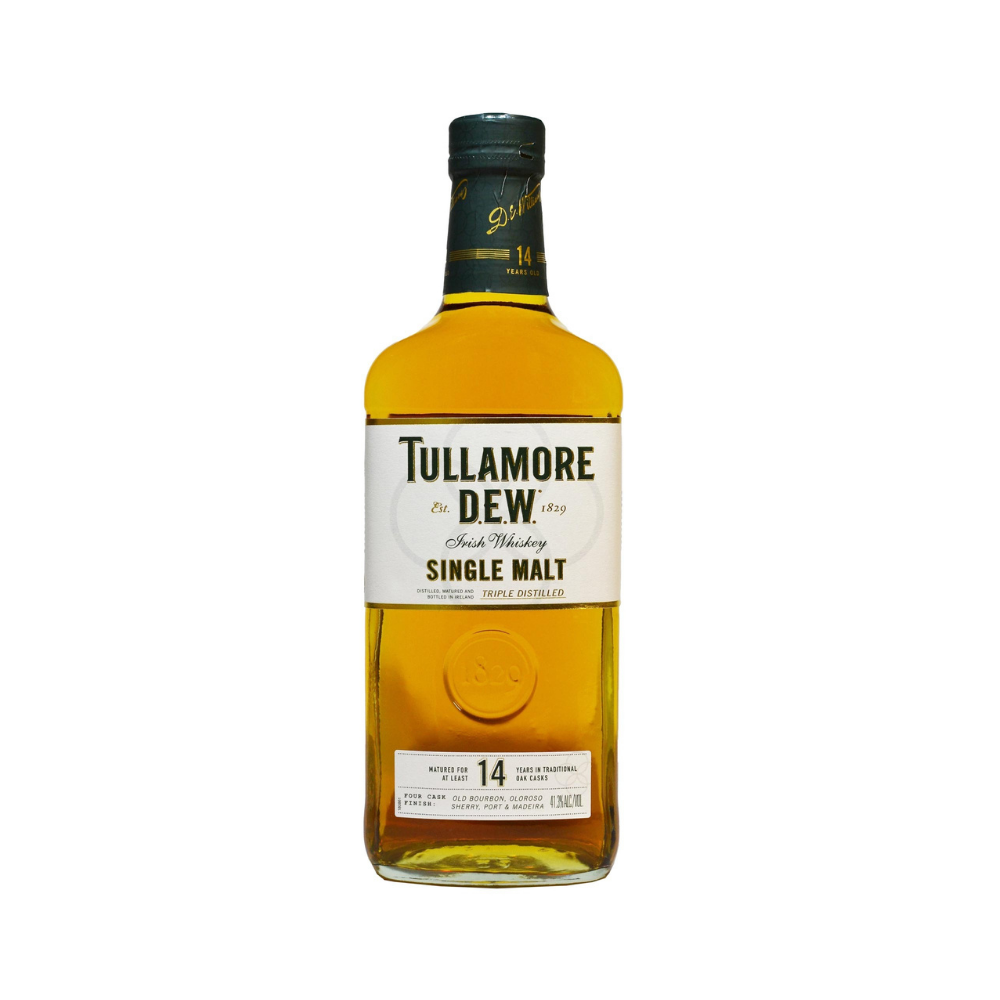 Tullamore Dew 14 Year Old
Nose: Vibrant and lively with incredible fruitiness. Ripe apples, sweet citrus and hints of tropical fruit all enveloped in Vanilla Oak.
Taste: Beautifully rich and sweet with layers of fruit, oak and subtle spice.
Finish: Altogether very smooth, easy, and light all the way through
€14.50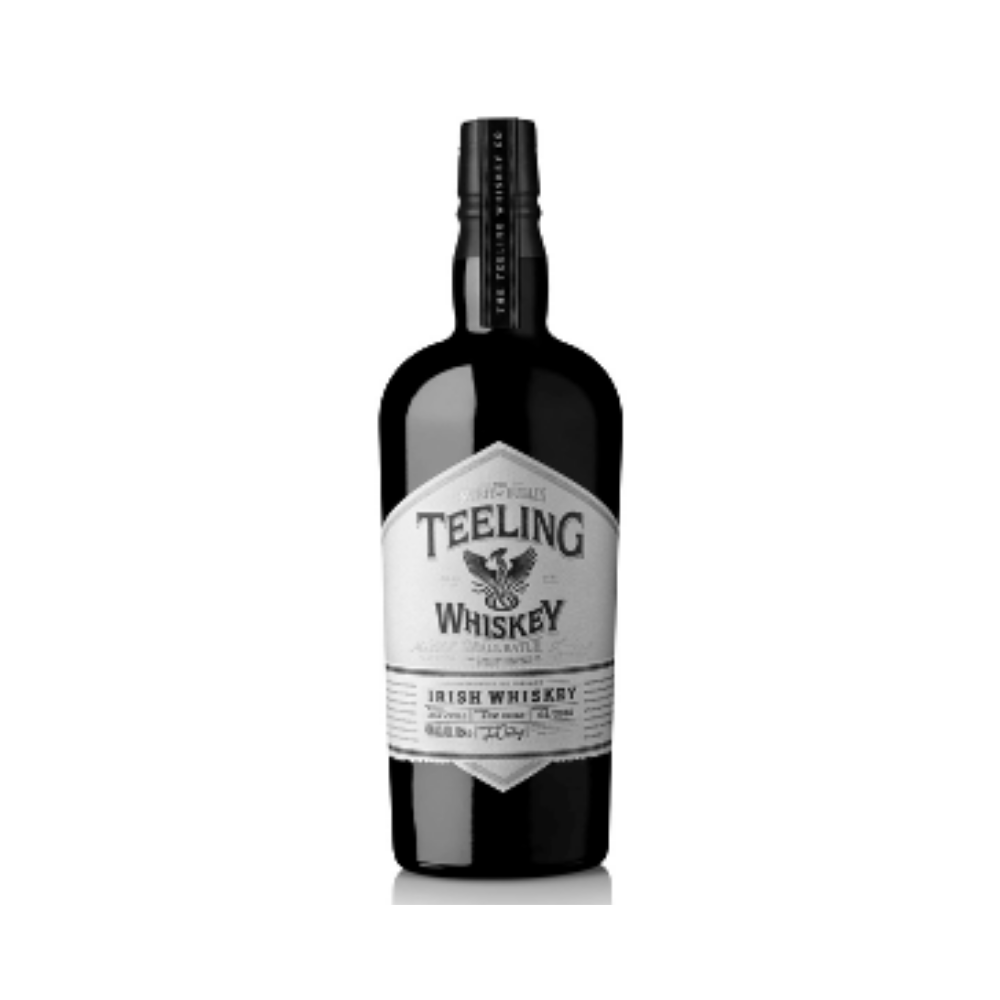 Teelings Small Batch
Nose: An inviting nose where vanilla and spice dance with bright sweet notes of rum.
Taste: The palate has a solid rum influence that creates a unique smooth, sweet and slightly woody marriage that sparkles on the tongue. Exotic fruit notes push through as well.
Finish: There is a sweet spicy finish complimented by lingering woody undertones.
€6.00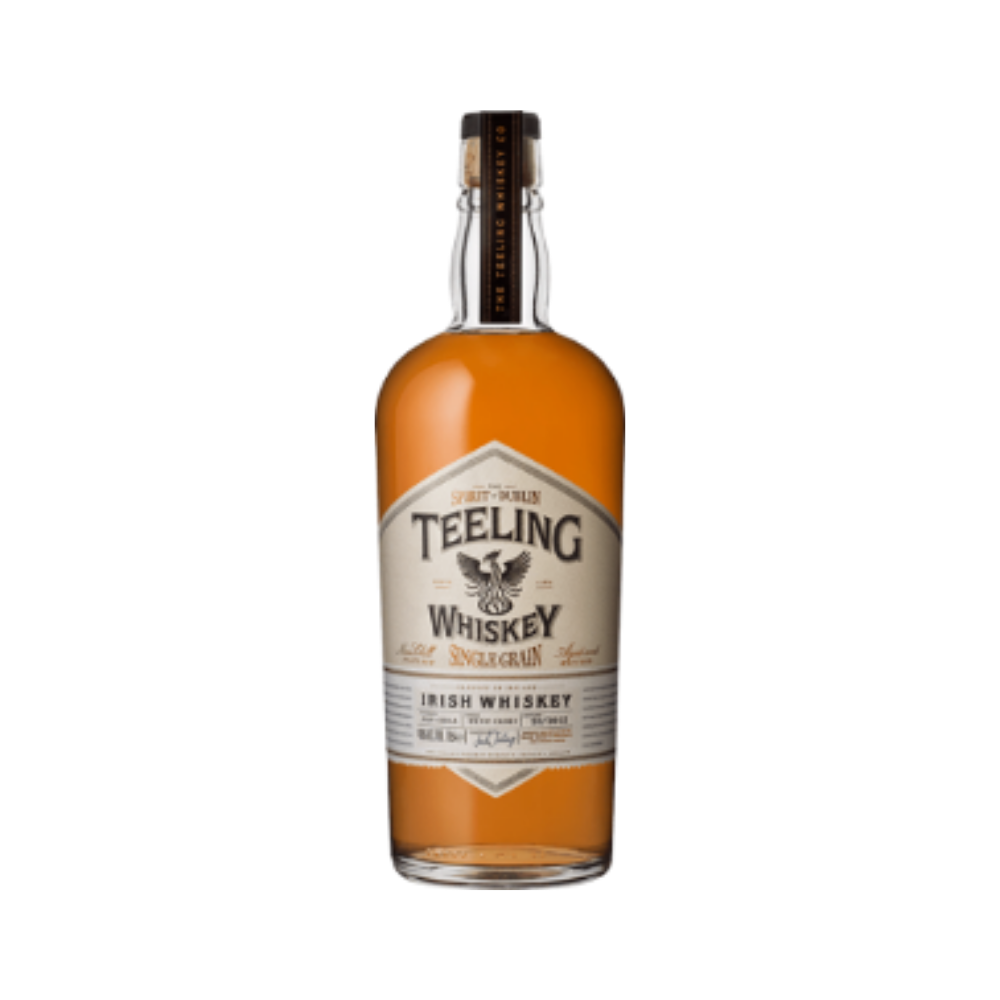 Teelings Single Malt
Nose: The nose opens with spice and fruit notes that mingle with an underlying sweet, sugary note.
Taste: The palate has a silky smooth mouthfeel, with a touch of spice and deep berry notes that balance the sweet undertones.
Finish: The tannic influence of the red wine creates a unique, short, dry finish, encouraging another sip.
€7.00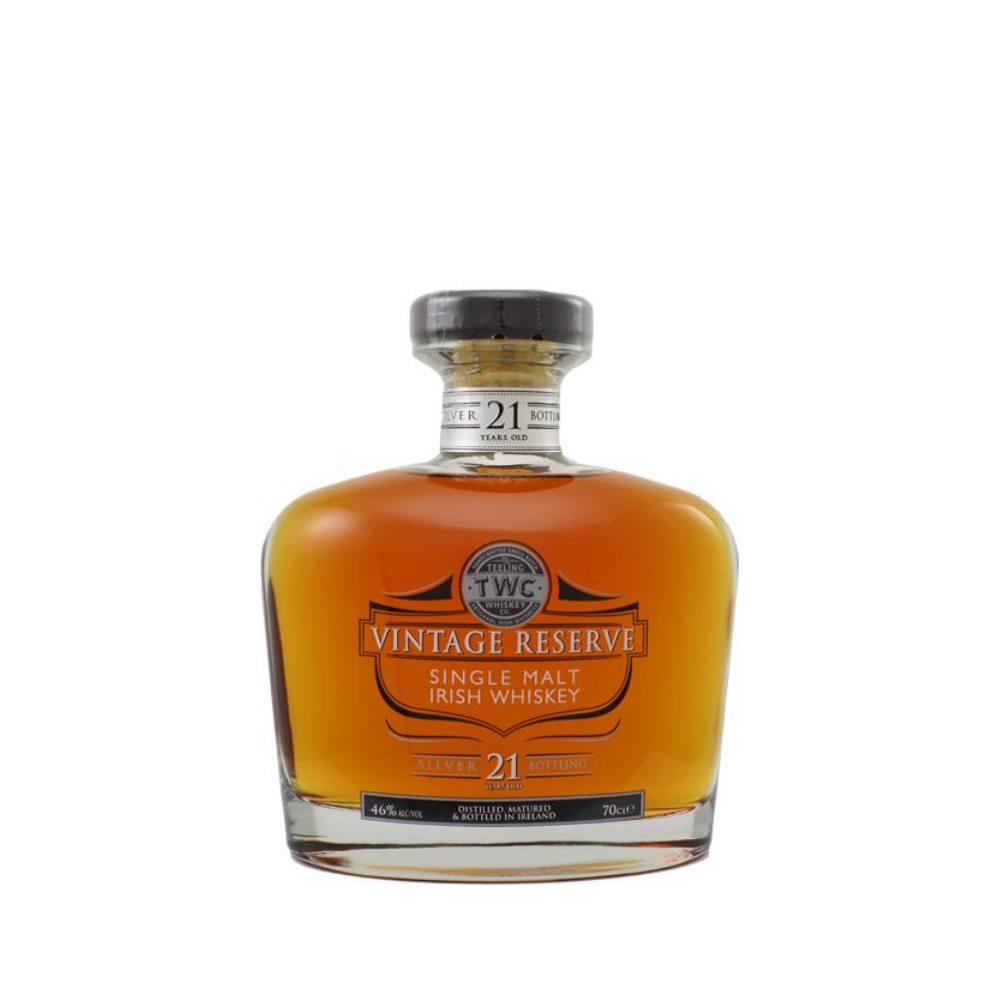 Teelings 14 Year Old Vintage
Nose: Aromas of white grapes, cut grass, apricots and white chocolate.
Taste: Silky smooth, with flavours of fig jam, honey, apricots, white chocolate and crisp saltiness at the end to balance the sweetness off.
Finish: The finish is long, mellow, and warmly joyful, with a light, peppery afterglow and a toffee aftertaste.
€17.00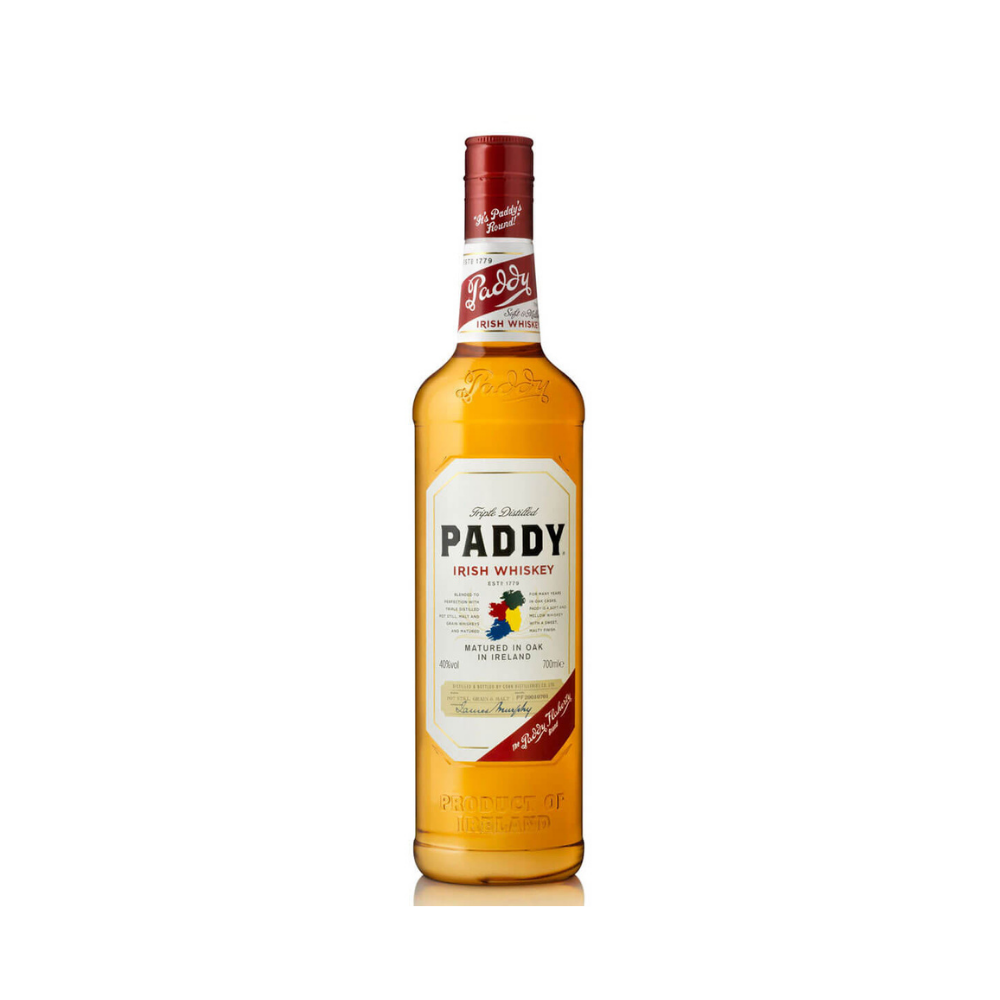 Paddys
Nose: The nose is oily and fresh with floral notes, cereal grains and plenty of fruit.
Taste: The palate is sweet and of medium-body with toffee and cereals, a rosewater note with a little butterscotch and vanilla.
Finish: The finish is spicy and dry with a little black pepper and oak.
€5.00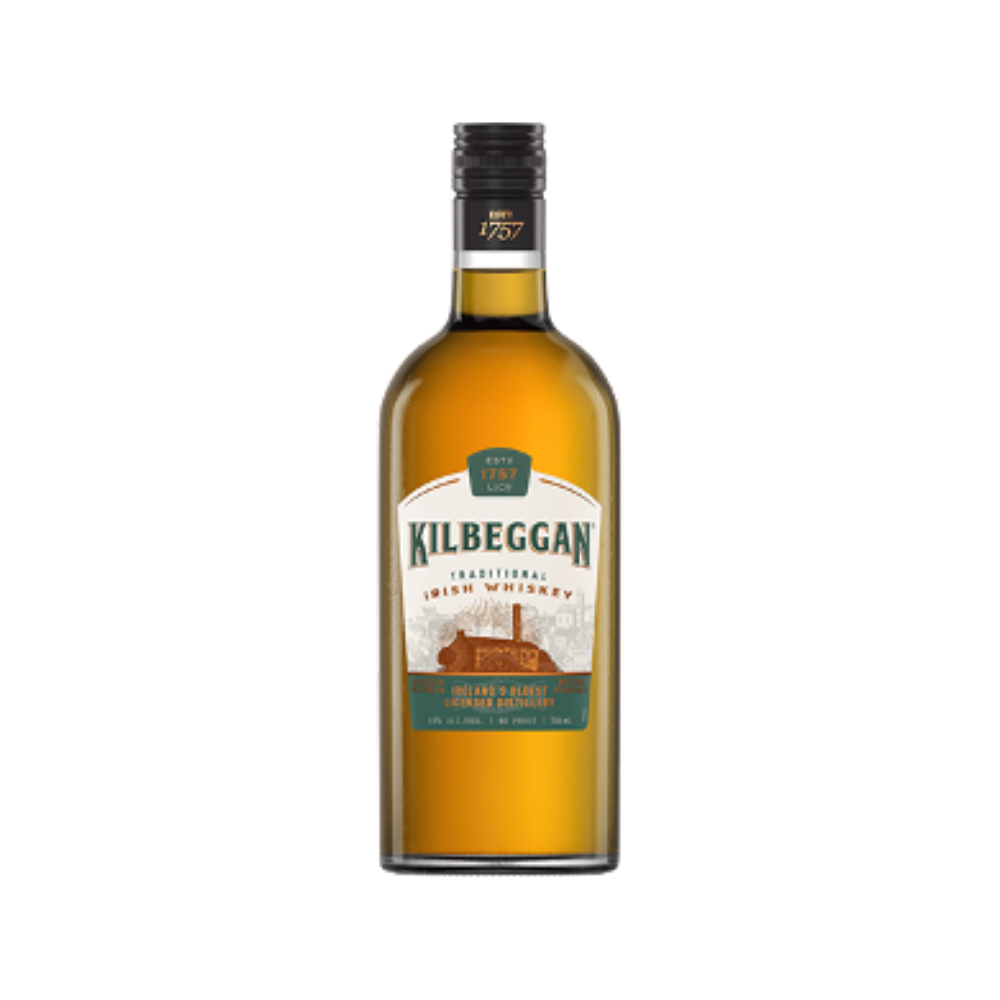 Killbeggan
Nose: Sweet caramel, vanilla and toasted wood aromas. Delicate malt and clean grain become more apparent with time
Taste: Soft almond nougat, peach, caramel and vanilla flavours before finishing quickly with soft, light malt sugar flavours
Finish: Dryness persists alongside with some genuine woody oak tones
€5.50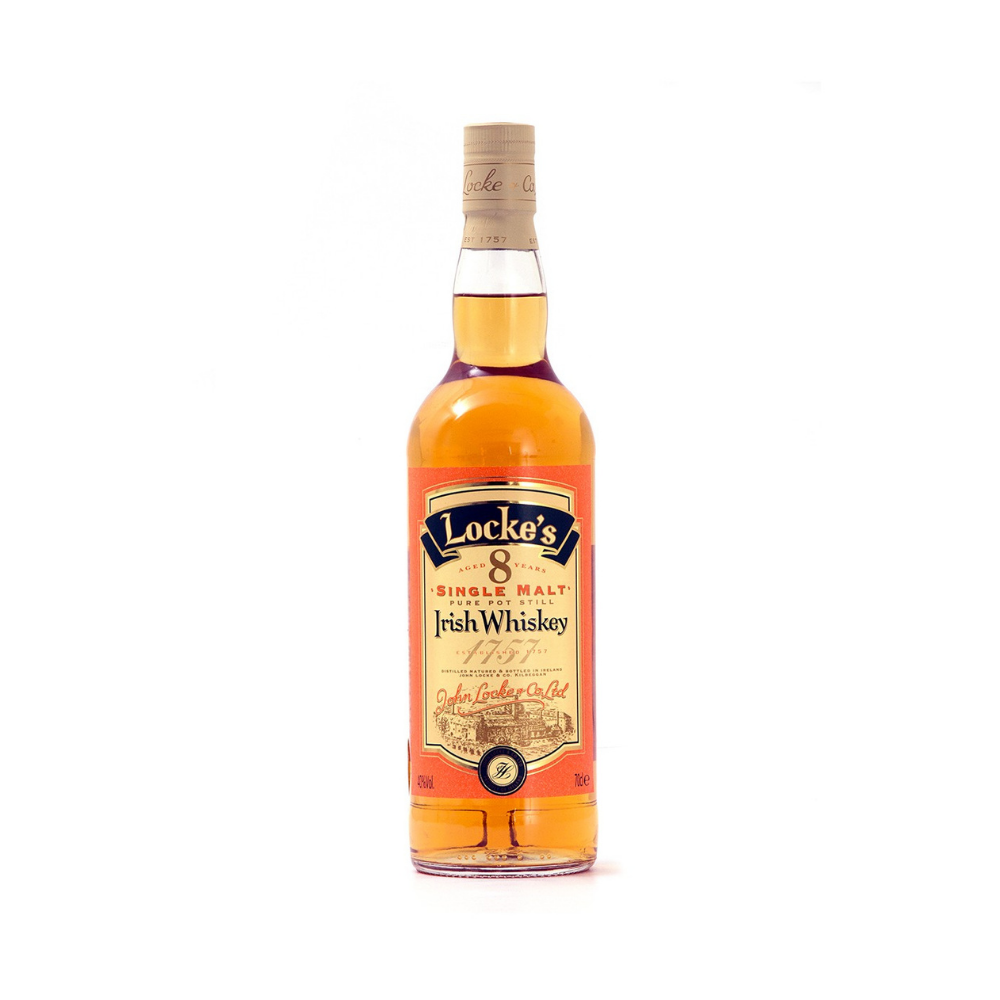 Locke's Single Malt 8 Year Old
Nose: Pencil shavings, toasty oak, vanilla, citrus fruits and orange zest.
Taste: Soft and woody with a crisp, oaky character. Quite chewy and mouth filling with flavours of citrus peel, vanilla, toasty oak and caramel
Finish: A long full bodied firm finish with some hints of a peachy maltiness.
€7.50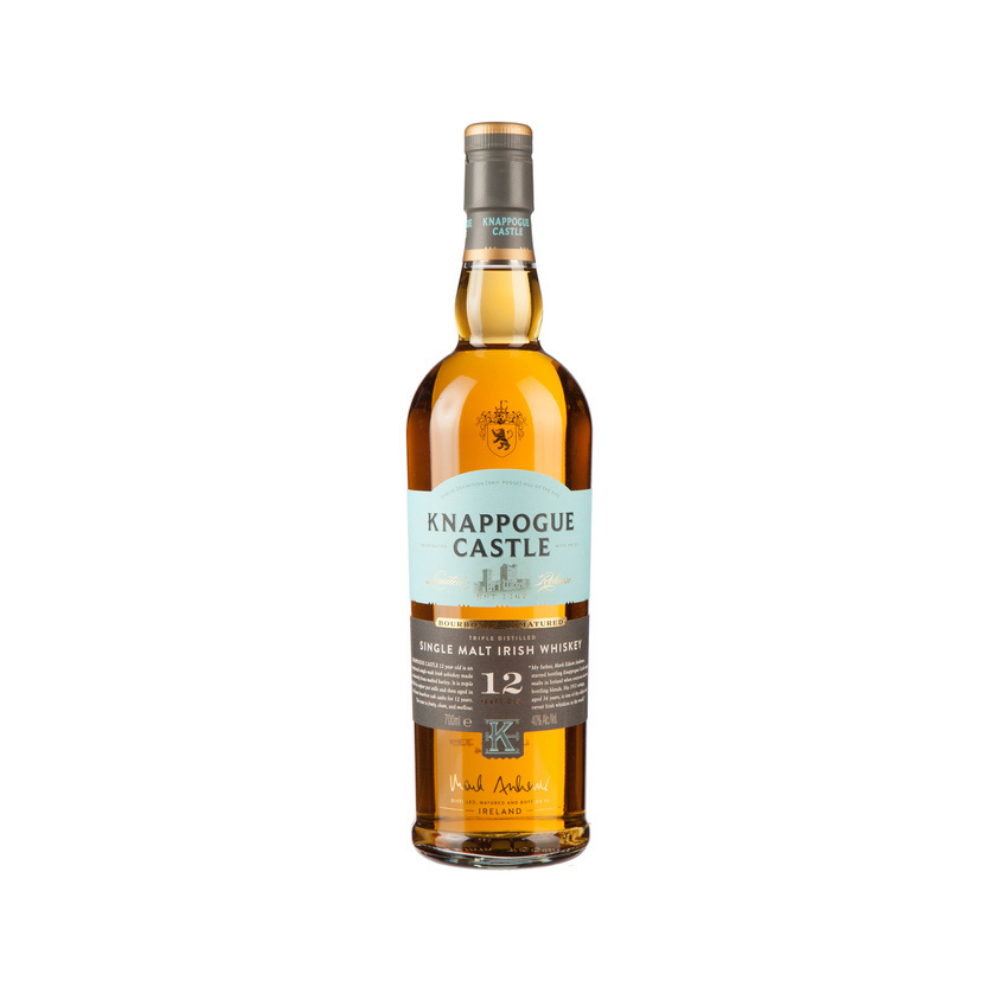 Knappouge Castle 12 Year Old
Nose: Aromas of vanilla, freshly baked bread, cooked apples and bread and butter pudding.
Taste: Nicely balanced on the palate with its rich viscosity being countered by fresh and light fruity characters. Flavours of lemon, fresh apples, candied fruits and delicate spices.
Finish: Rich and spicy on the finish.
€7.50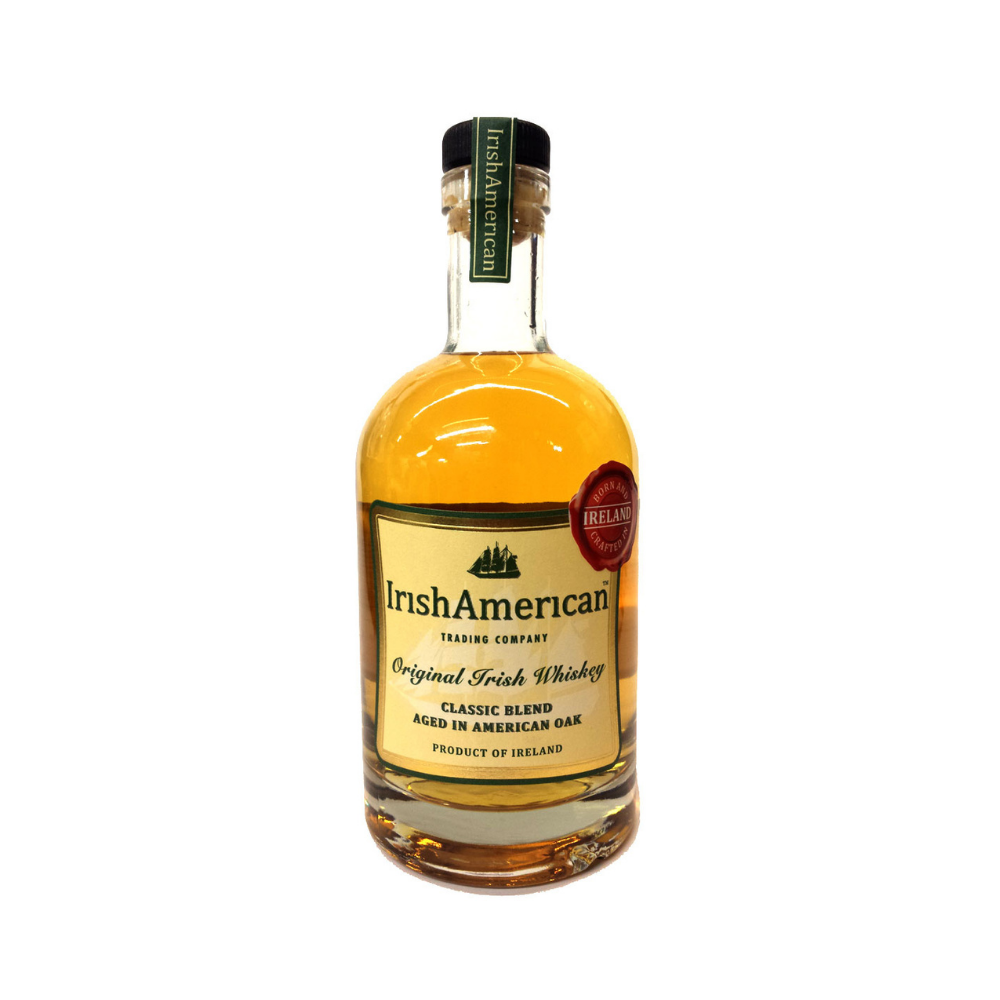 Irish American 10 Year Old
Nose: Strong wood and leather notes combine with dark dried fruits to give a rich full bodied aroma.
Taste: Light and fruity with an instant hit of blackberry and raspberry. This evolves on the palate to dried fruits like raisins and dates.
Finish: Finishing with warm spicy oak and caramel.
€9.00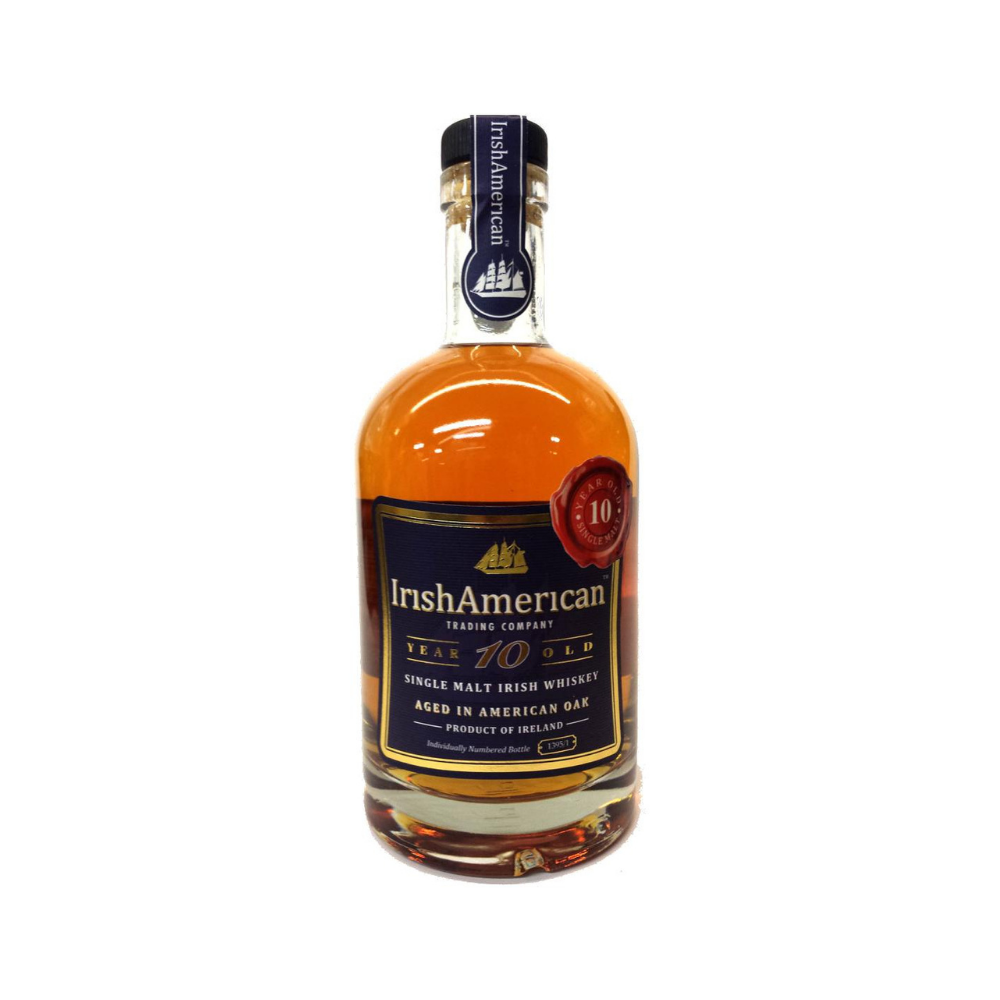 Irish American Classic Blend
Nose: Quite delicate and refined, floral and citrus notes with hints of cinnamon and oak.
Taste: Light and delicate upfront with a very approachable blend of vanilla and oak
Finish: A mild pepper finish.
€11.00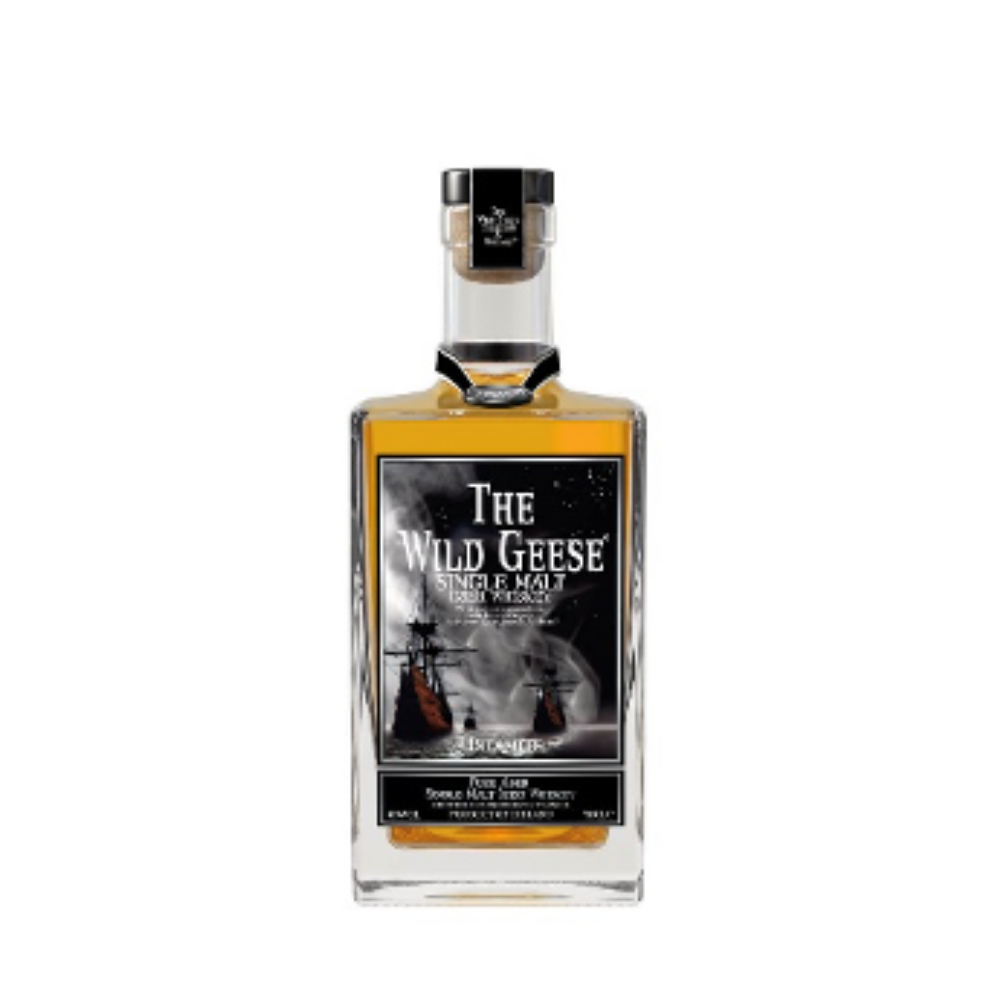 The Wild Geese Single Malt
Nose: The nose is clean, smooth and sophisticated. There are hints of oak, interwoven with a slight mustiness. On the higher notes, ripe, berry fruits.
Taste: A finely balanced whiskey, smooth with an excellent body. Peppery, spicy, malty oak and a complex sweetness. A hint of vanilla and a lingering earthiness.
Finish: The finish is long on the palate and very satisfying.
€9.00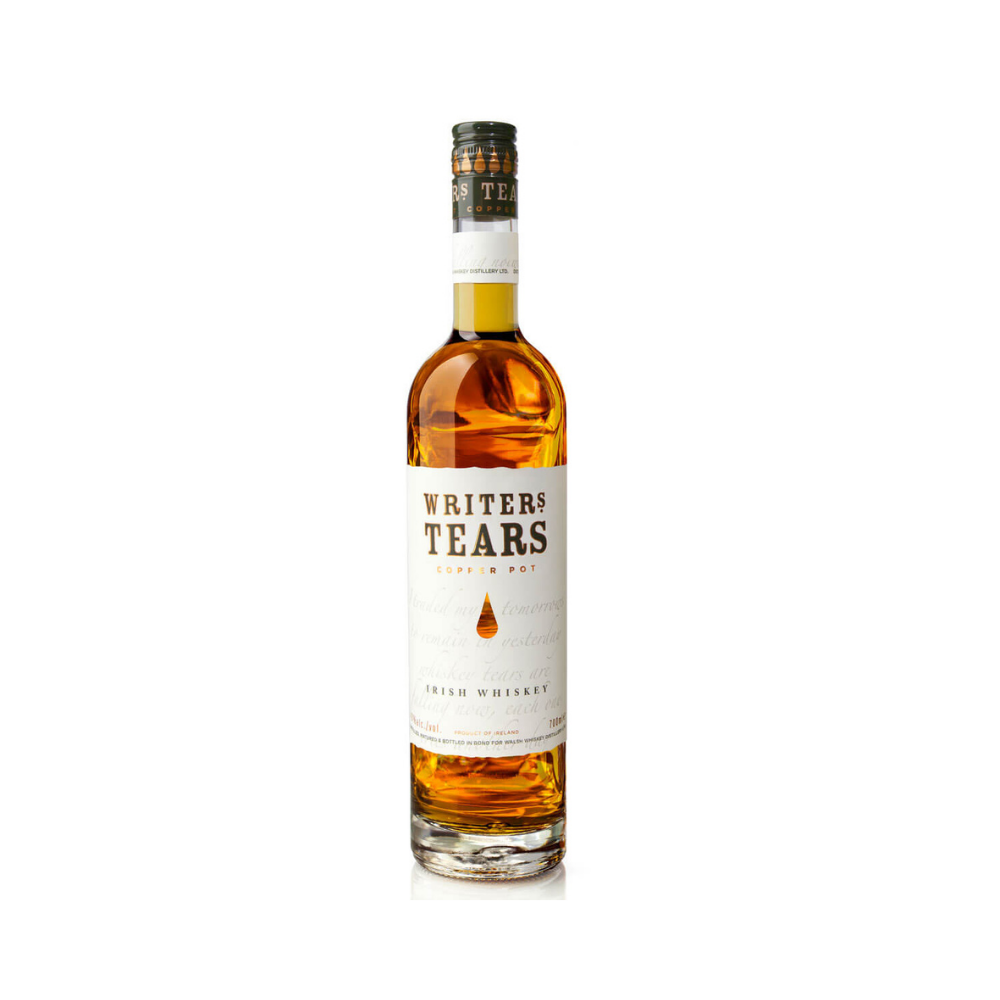 Writer's Tears Copper Pot
Nose: Flashes of apple with hints of vanilla and honey over a distinctively Irish pot still base
Taste: Gently spiced with a burst of ginger and butterscotch with background notes of toasted oak.
Finish: Long, elegant finish with subtle notes of milk chocolate and almonds.
€7.00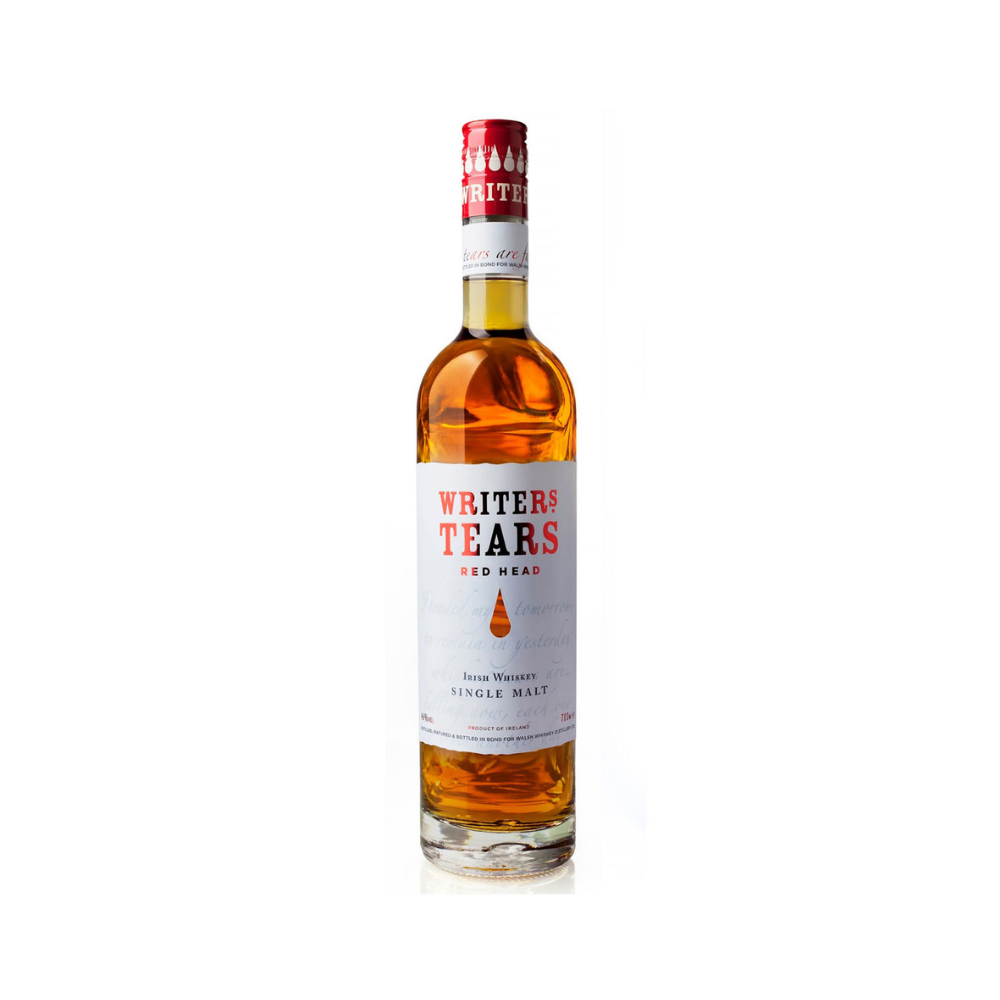 Writer's Tears Red Head
Nose: On the nose; orange peel, dried fruits and sherry plums.
Taste: Hints of nutty Oloroso, spicy raisins and creamy oak on the palate.
Finish: A long and wonderfully complex finish with a flourish of orange.
€8.00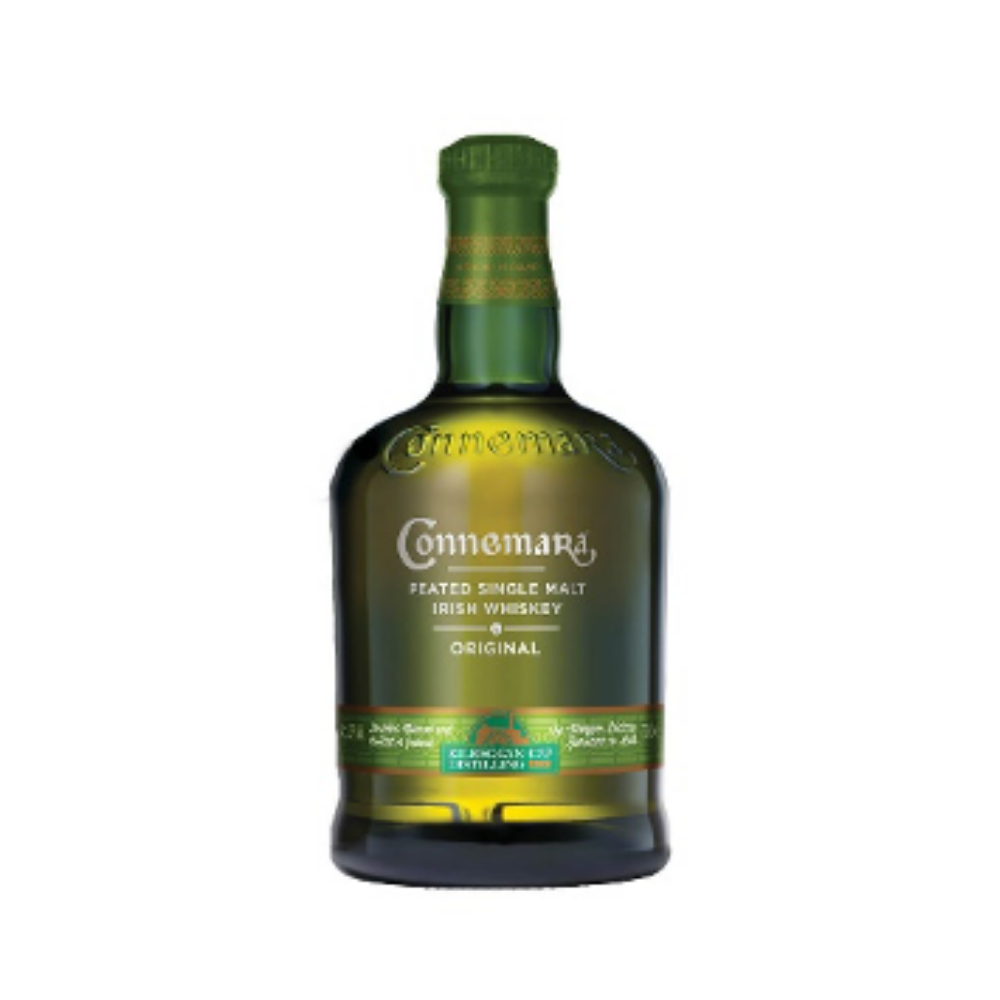 Connemara Peated Single Malt
Nose: An aroma of sweet barley with wafts of peaty smoke, kippers and well baked apple crumble.
Taste: Tastes of lightly honey sweet, subdued clean rather than sooty smoke with peaty vegetal notes, sweet barley water, light spice and vanilla oak.
Finish: Finish Lingering with sweet honey notes and a strong, peaty finish.
€6.00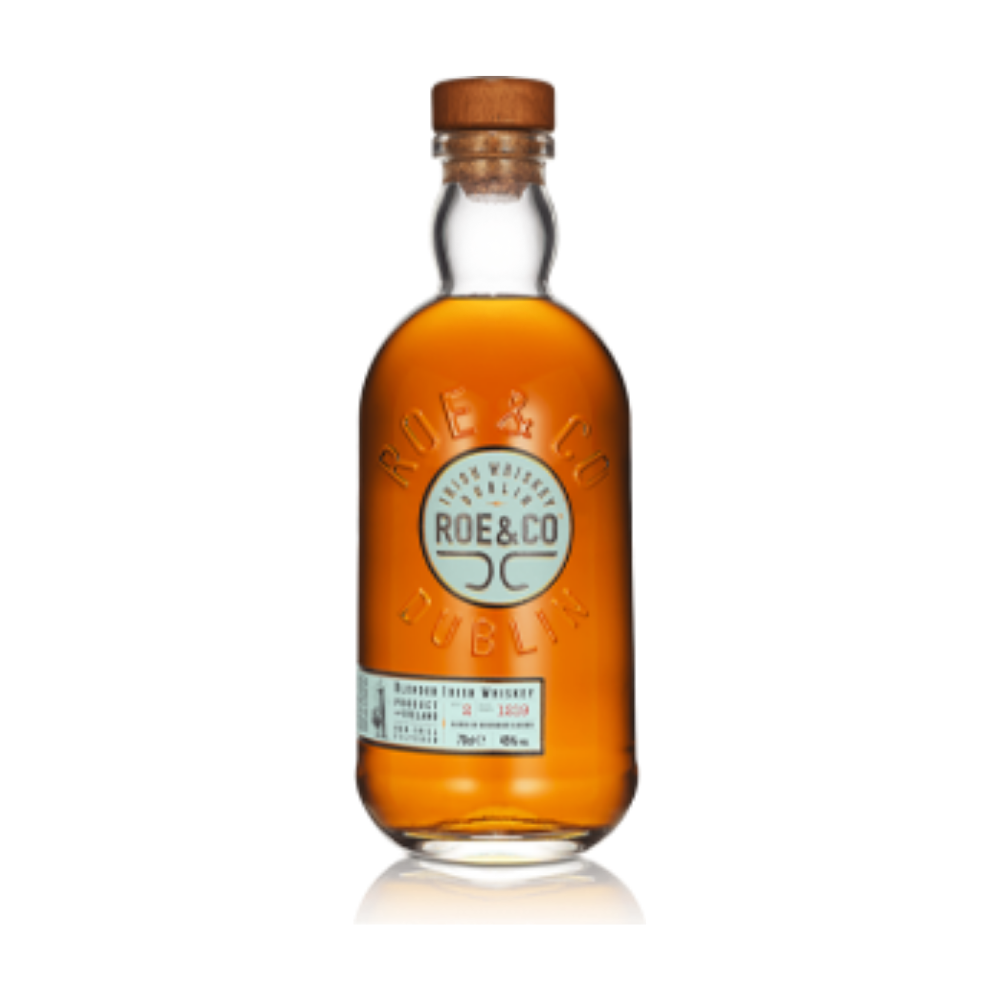 Roe & Co
Nose: Creamy, delightfully fragrant.
Taste: Notes of soft spice and mellow spun sugar along with warm hints of spiced pears and woody vanilla.
Finish: Lingering and gentle, ending with a light creaminess.
€7.00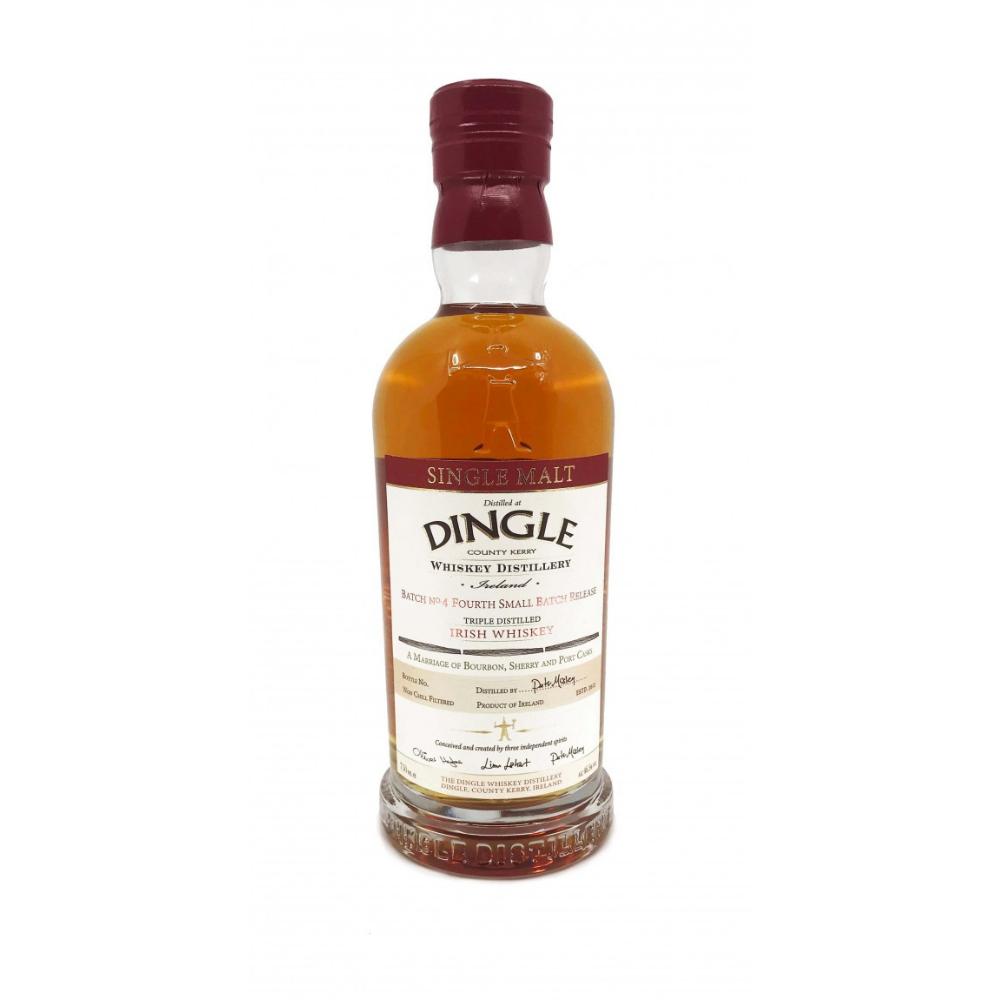 Dingle Malt
Nose: Hot chocolate and salted caramel, with a touch of dried mango.
Palate: Malty and very slightly earthy, with a good whack of dried fruit bringing balance to the palate.
Finish: Chocolate chip cookies, five-spice, menthol.
€12.00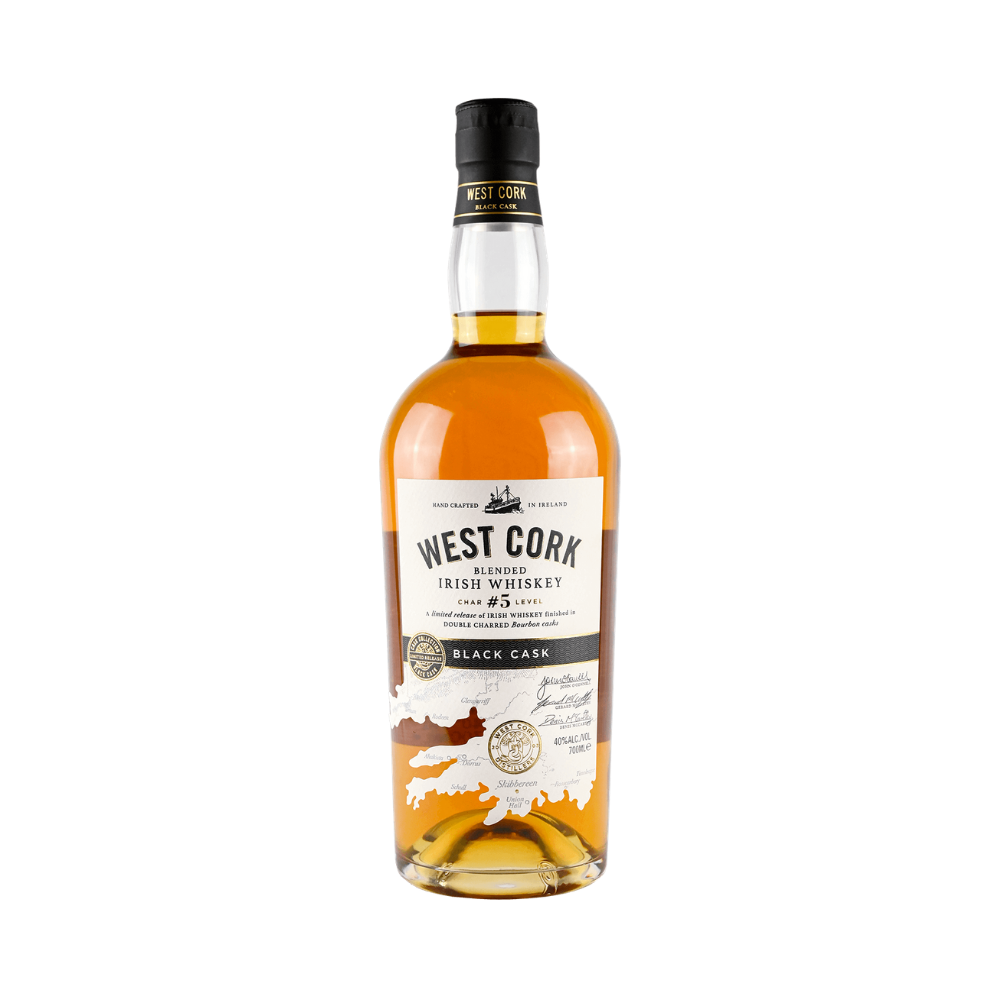 West Cork Black Cask Blended
Nose: Quite refined and polished on the nose with aromas of sappy oak, vanilla, wood shavings, ginger and cinnamon.
Taste: Light and delicate. Quite easy to drink with well-balanced oak flavours of vanilla, chocolate, ginger and other spices.
Finish: A creamy finish with chocolate, ripe pear and oak char.
€5.70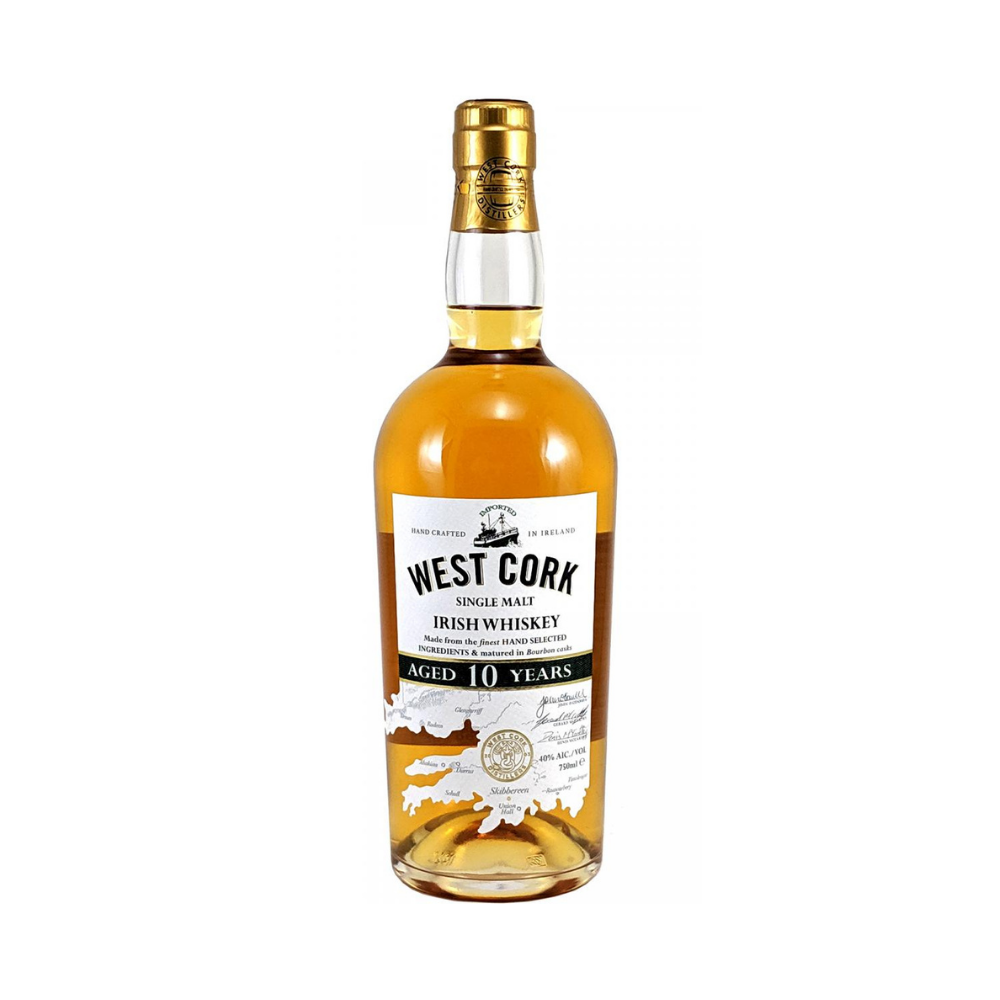 West Cork 10 Year Old Single Malt
Nose: Fresh oak, pencil shavings, vanilla, ginger, apricot and pineapple. Uncomplicated but fresh and vibrant.
Palate: Soft and fruity on initial taste then there are more peppery, spiced notes. Quite chewy and oaky with a slight mouth-drying sensation. Classically styled bourbon cask matured Irish whiskey. Flavours of pineapple turnover, red apples, citrus peel, ginger, vanilla and black pepper.
Finish: Long and warming with gentle spice and a hint of milk chocolate.
€8.50
World Whiskeys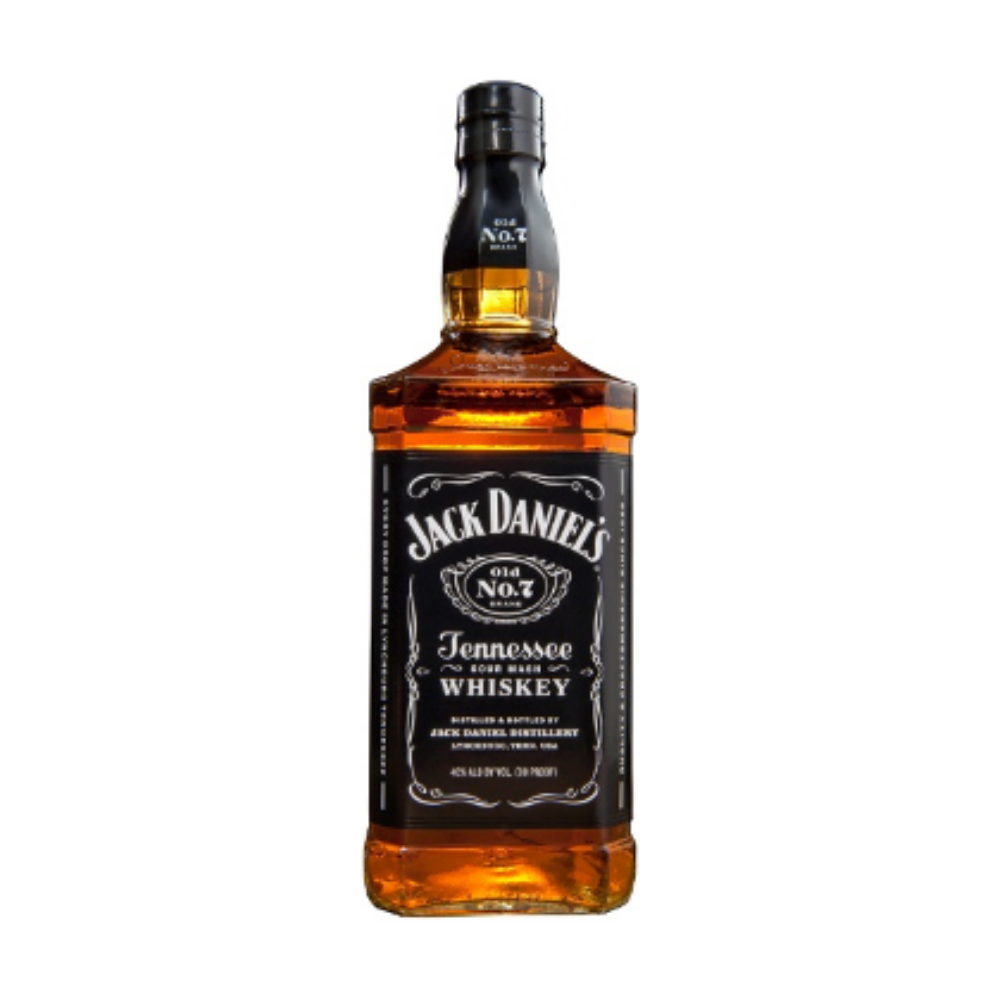 Jack Daniels
Nose: Light with plenty of sweetness. There are hints of dry spice and oily nuts, a touch of smoke.
Palate: Quite smooth and soft with notes of banana, a mixed nut note, a touch of caramel with crème anglaise.
Finish: Sweet with a little cereal sweetness and toasty oak.
€5.50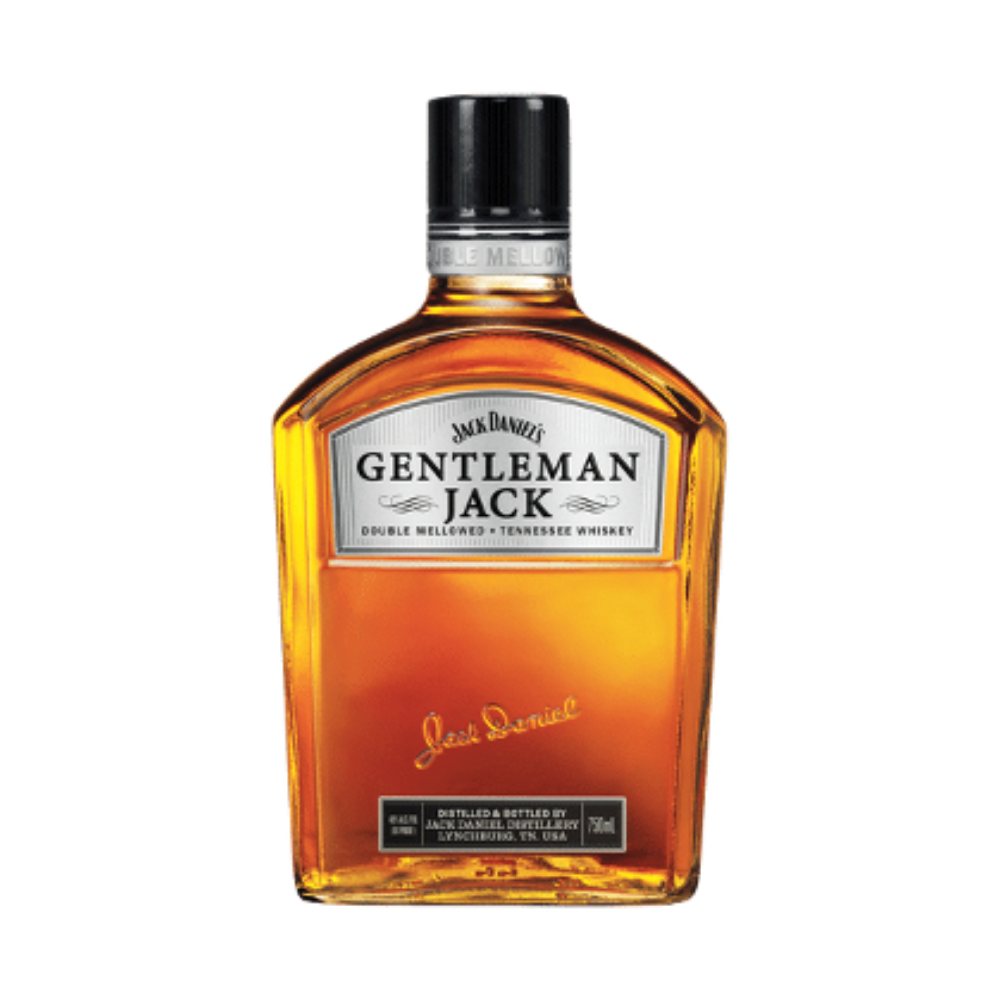 Jack Daniels Gentleman Jack
Nose: Spicy nose with caramel, charred oak and a little aniseed.
Palate: Liquorice-led palate with oak and cinnamon, a touch of banana too.
Finish: Roasty and toasty finish, plenty of spice and citrus too.
€8.00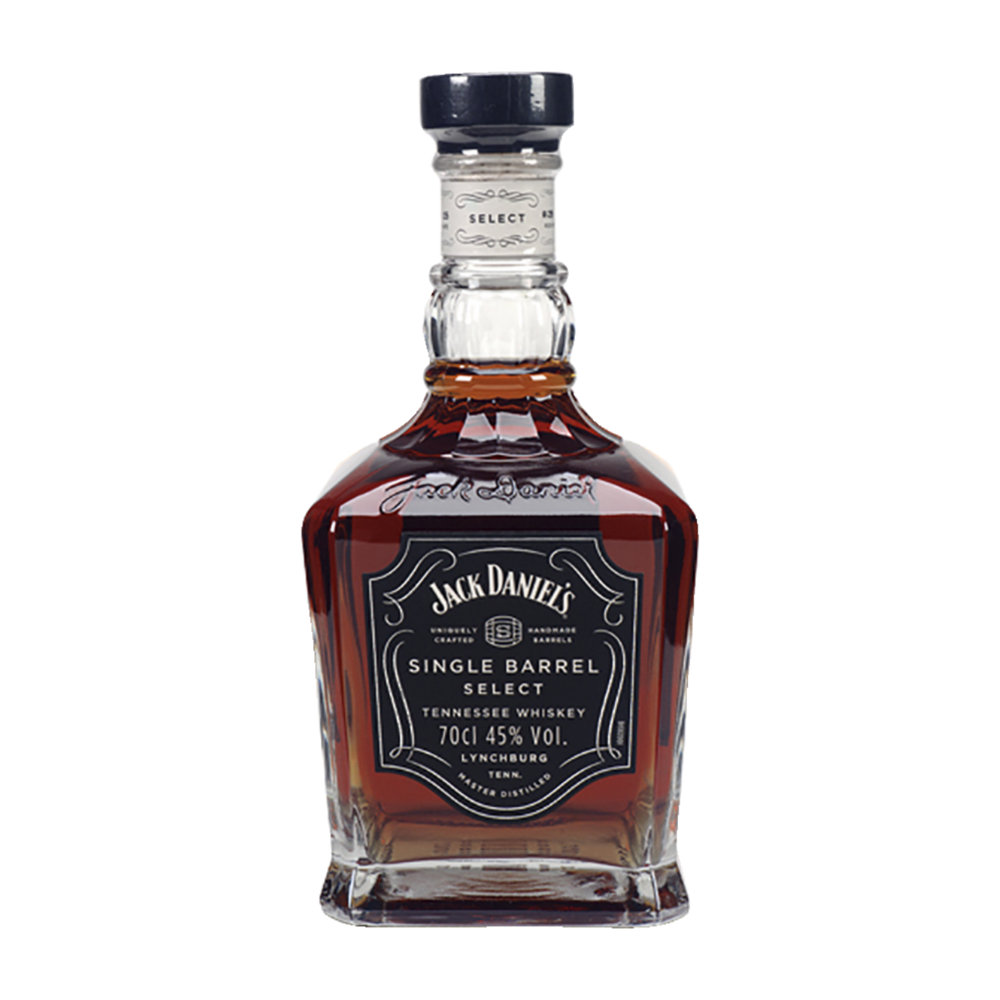 Jack Daniels Single Barrel
Nose: Good body with plenty of toasty oak, there are notes of corn and lovely cereal sweetness, there is a good smoke note, a little spice and toffee.
Palate: Full and mouth-filling. There are notes of cereal sweetness, the rye is in evidence with a touch of cigar box and nut oils, a little spice and an aniseed character.
Finish: Good length with a hint of citrus and plenty of cereal sweetness.
€10.00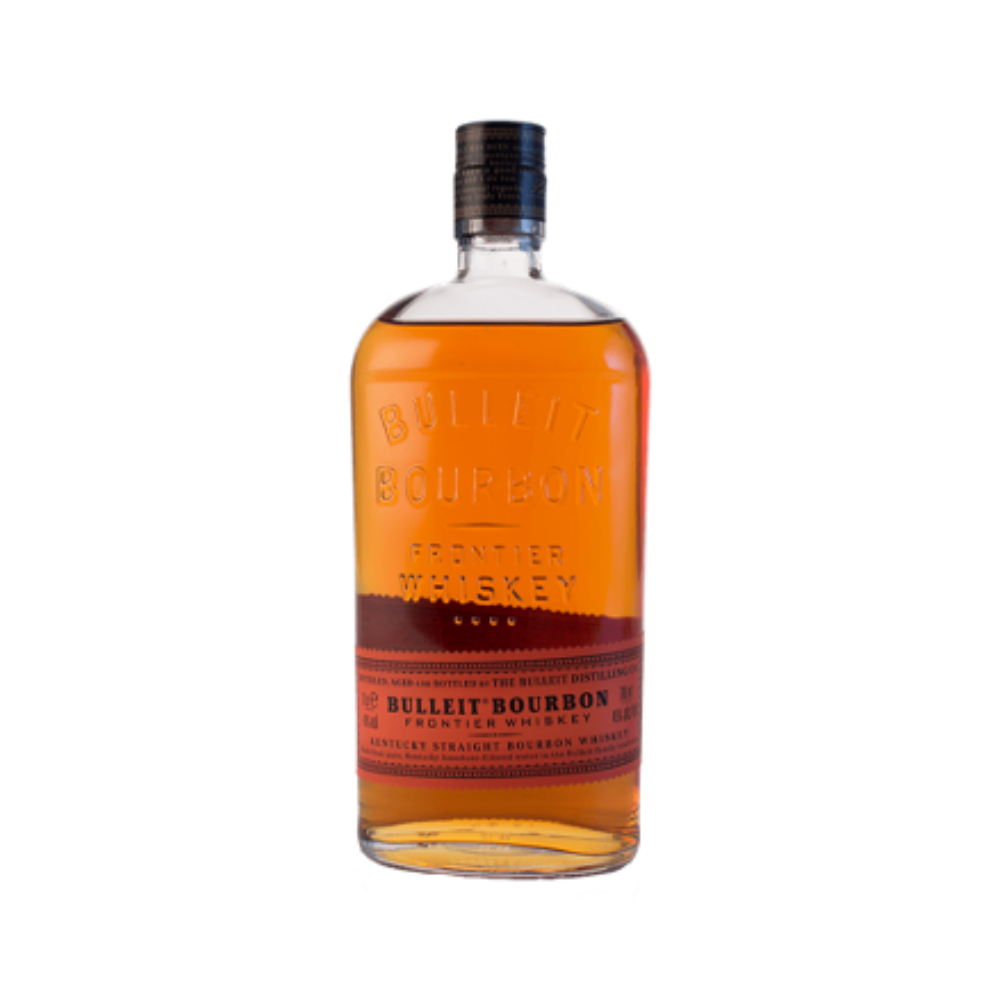 Bulleit Burbon
Nose: Medium amber in color, with gentle spiciness and sweet oak aromas.
Taste: Mid-palate is smooth with tones of maple, oak, and nutmeg.
Finish: Finish is long, dry, and satiny with a light toffee flavor.
€6.00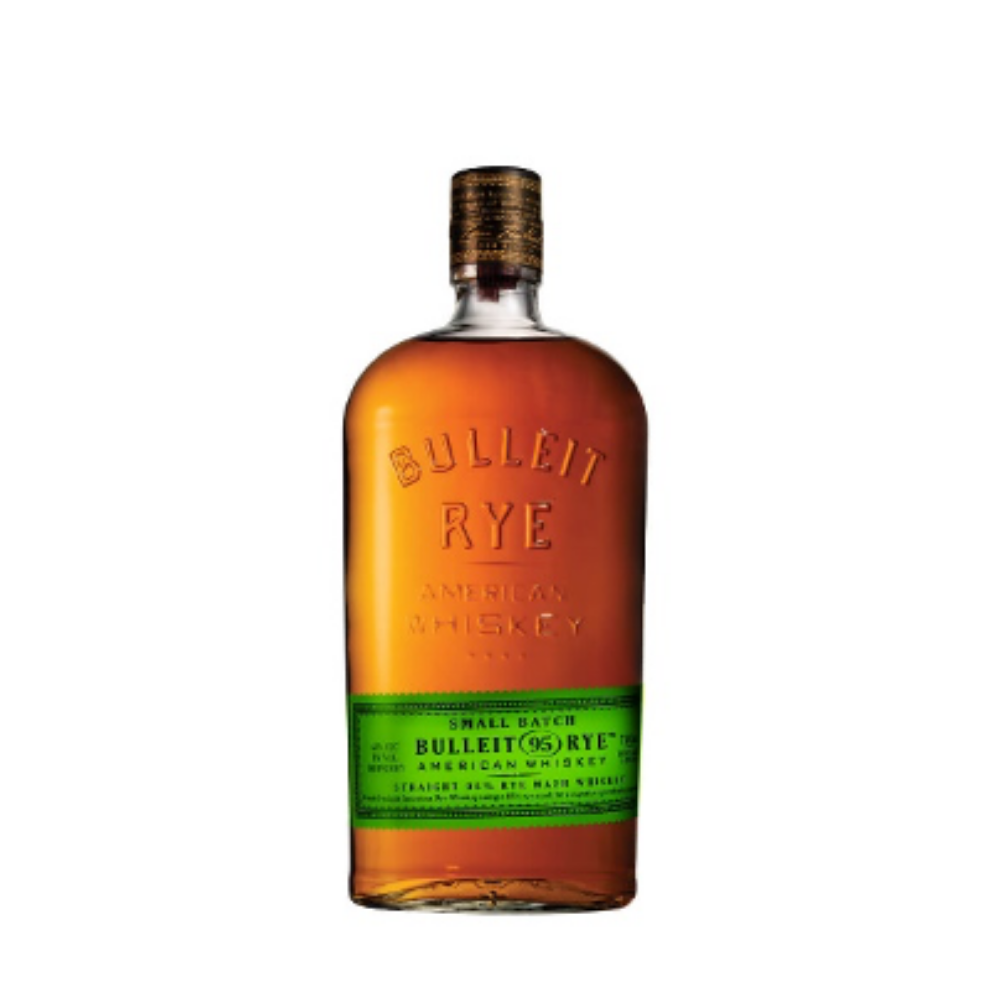 Bulleit Rye
Nose: Russet in color, with rich oaky aromas.
Taste: The taste is exceptionally smooth, with hints of vanilla, honey, and spice.
Finish: Finish is crisp and clean, with long, lingering flavors.
€7.00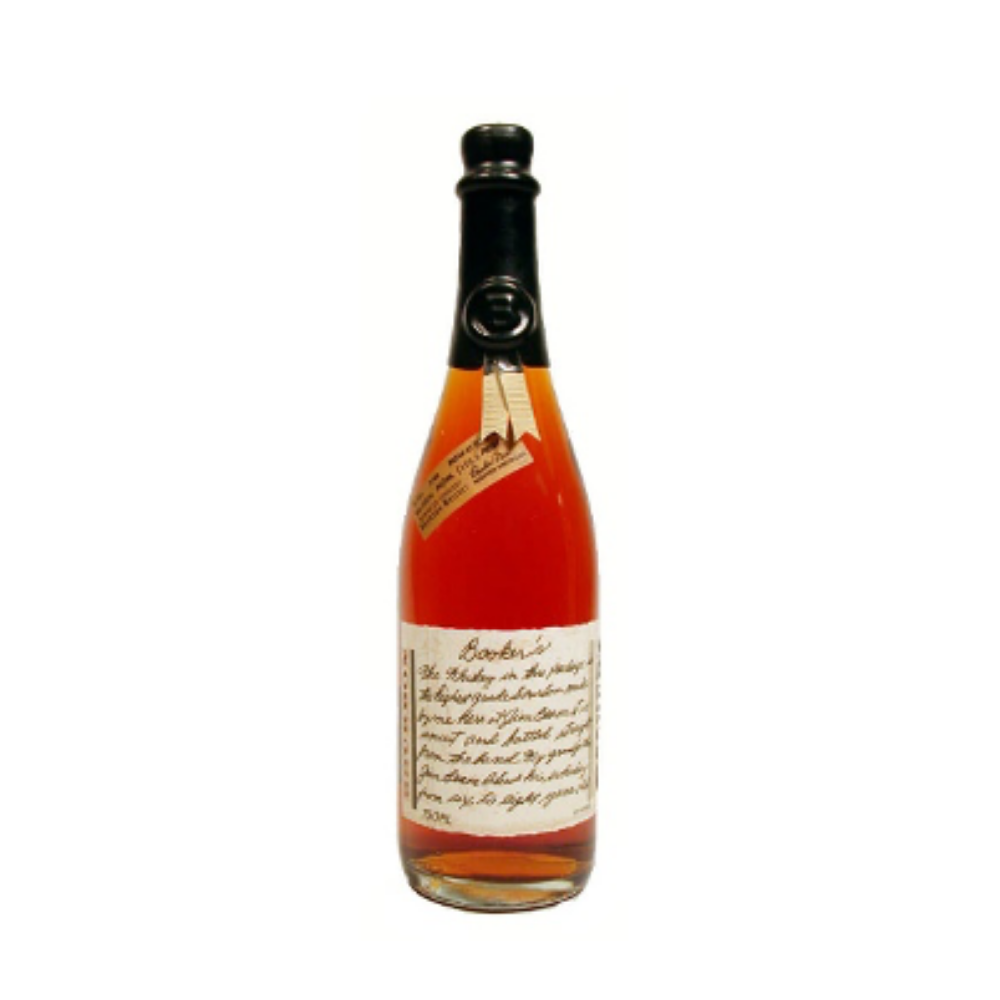 Bookers Bourbon
Nose: Robust vanilla and caramel notes; slightly smoky.
Taste: Deep and complex flavours of vanilla, nuts and oak.
Finish: Long and full; perfect for easy-going sipping.
€20.00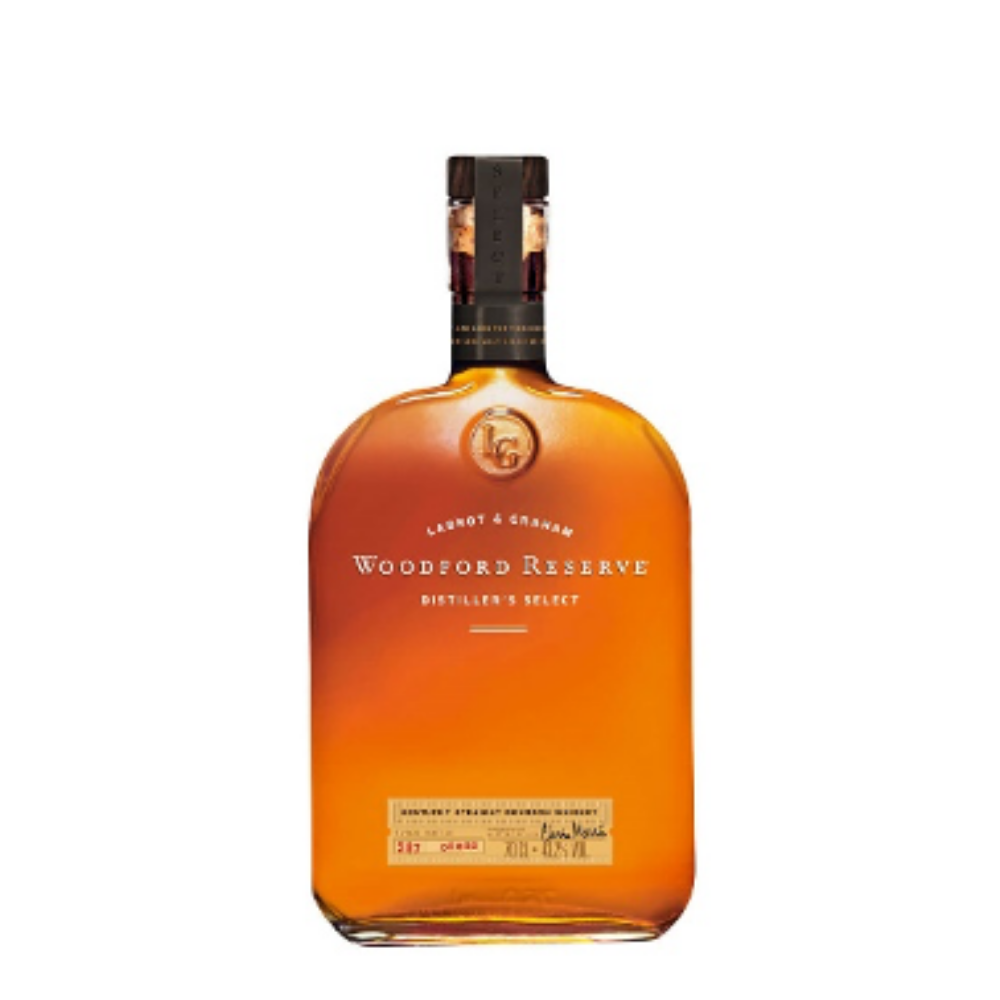 Woodword Reserve Bourbon
Nose: Heavy with rich dried fruit, hints of mint and oranges covered with a dusting of cocoa. Faint vanilla and tobacco spice.
Taste: Rich, chewy, rounded and smooth, with complex citrus, cinnamon and cocoa. Toffee, caramel, chocolate and spice notes abound.
Finish: Silky smooth, almost creamy at first with a long, warm satisfying tail.
€7.00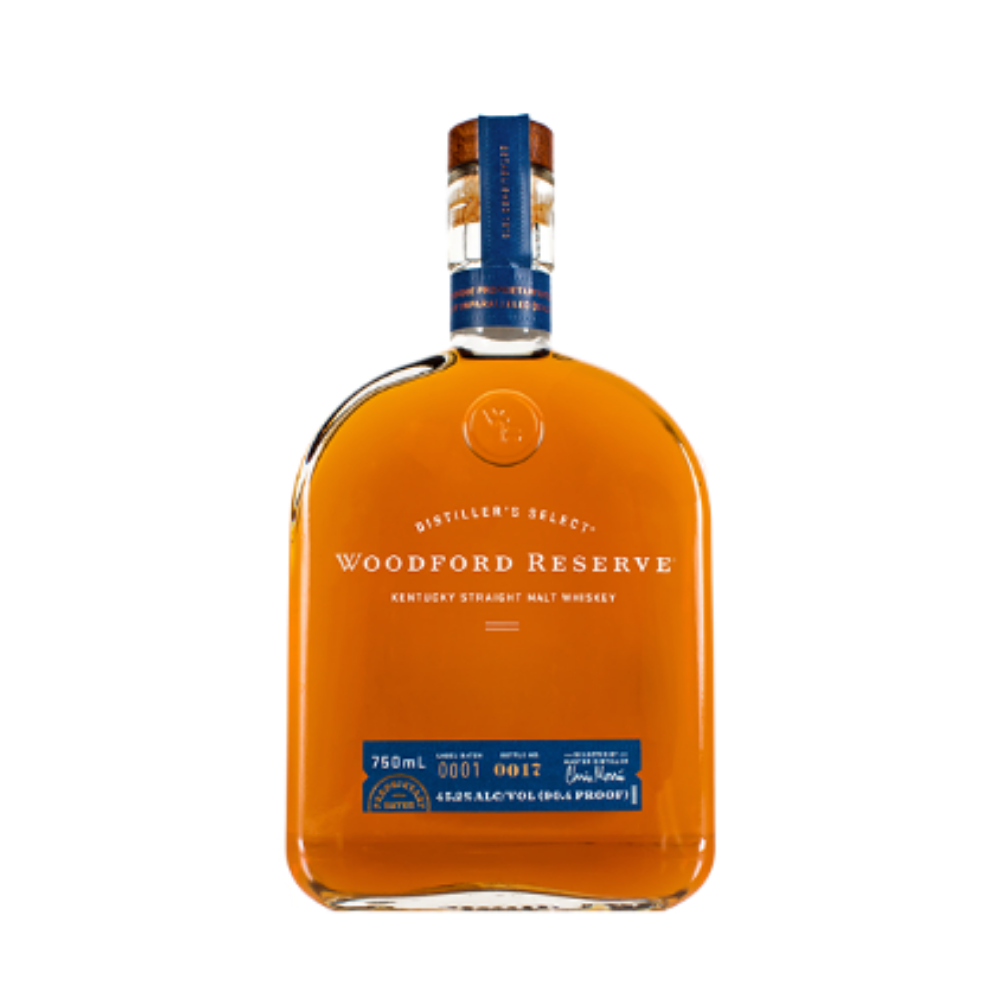 Woodword Reserve Classic Malt
Nose: Soft nutty notes drizzled with light caramel and milk chocolate coat a layer of fruit character (apple, dried fruit, tropical fruit). Hints of brown spice, savory mint and brown sugar mingle with a rich note of freshly milled toasted oak.
Taste: Dark chocolate and caramel coated nuts are dried out with a dusting of cocoa powder and brown spice. A fruit medley brightens a trace of toasted coconut and rich, bright oak character.
Finish: Nutty and subtly sweet chocolate malt notes.
€30.00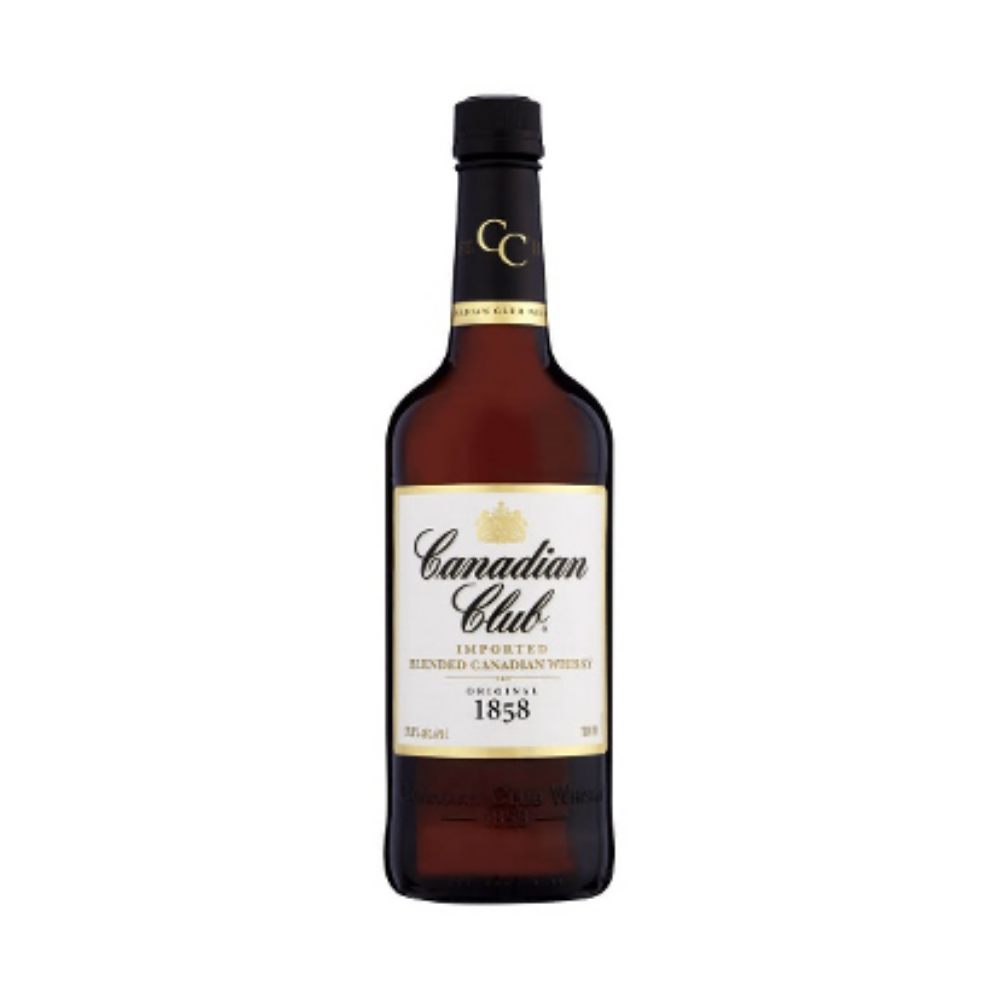 Canadian Club
Nose: Fresh and soft, with an almond nuttiness, hint of peppery spice.
Taste: Spicy and zesty, complimented with hints of rich oak and sweet vanilla, pleasant sweetness.
Finish: Clean, dry and lingering with subtle oak.
€6.00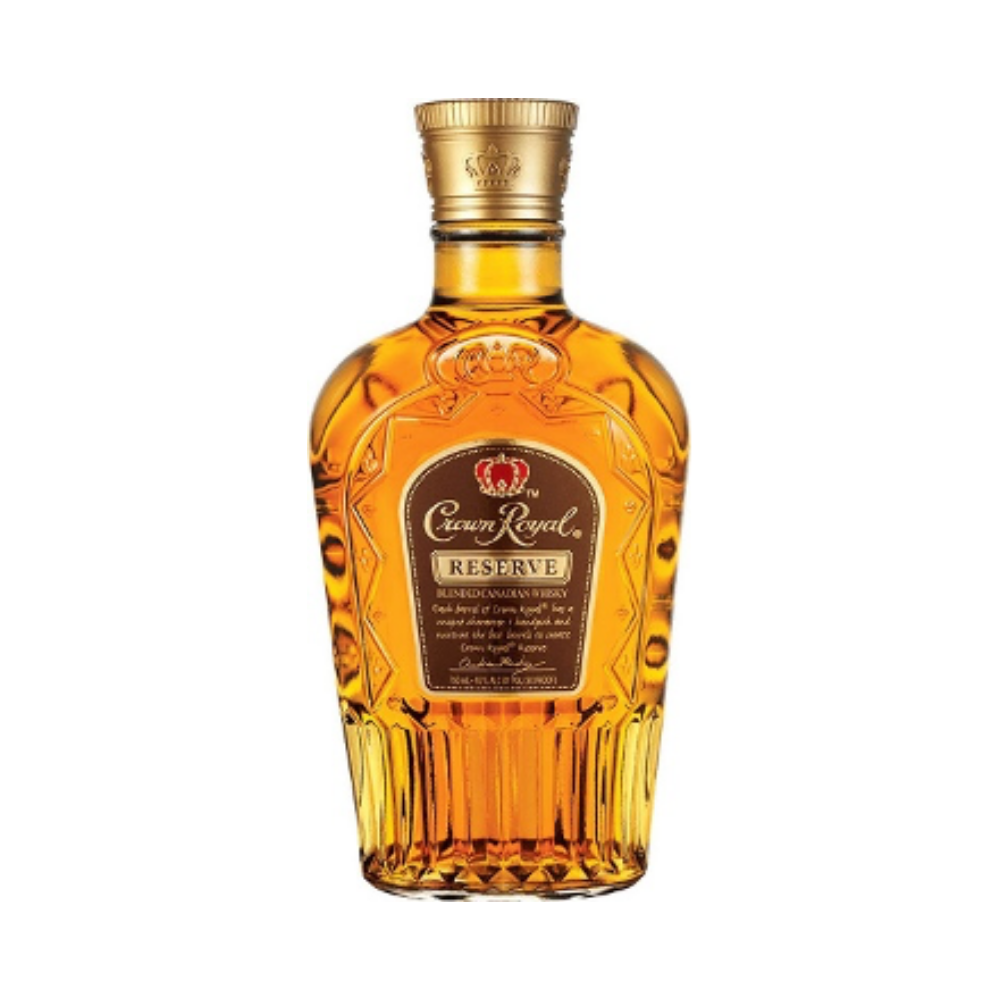 Crowne Royal Reserve
Nose: Rich and complex with hints of apple and floral tones.
Taste: Velvety, smooth and mellow, with defined oak tones and rich spicy flavors of baking spices and vanilla.
Finish: Expansive and long-lasting.
€15.00